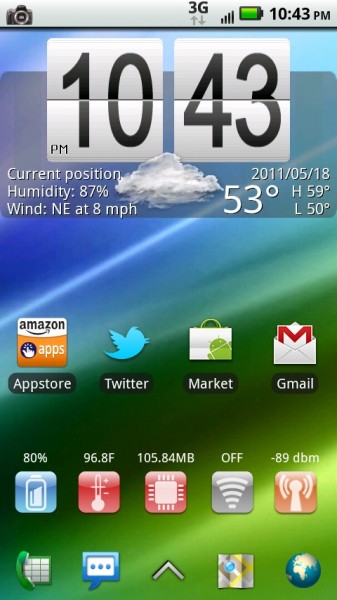 Yesterday we brought you SBFportable. Did anyone try it?
Today, we look at an app by Sergey Golovanov called Live Wallpaper Flip Clock. I assume people read the post topic and thought,"who uses live wallpapers?"  Well, after about thirty minutes with this app, I can tell you that I do. This app creates an environment unlike most typical live wallpapers. The app has a built in fully functioning weather clock, HTC style. This is the only part of the wallpaper that is actually live. And since the clock is built right into the wallpaper, you don't lose any space with a widget on your homescreen. Everything else is customizable – backgrounds, type of clock style, color, location, fonts, battery status, temp, forecast, and so on. After running it on my DX and on friends' TBolts and OGs, I can tell you the battery effect is no more than any other clock widget you may use, but you get the added benefits listed above. There is a free trial version and a paid $2.00 version.  
Give it a fair run on trial version and let us know what you think!
Market Link (Trial) | Full Version
*Amazon Appstore Free Paid App Today is: Debt Payoff Planner.  It's usually $.99 and currently has a 3 star rating. So if that's something you have been looking for… there ya go.