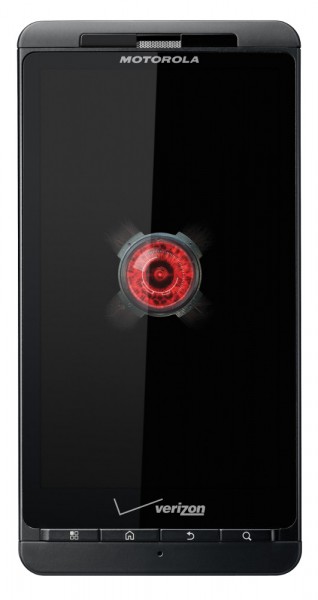 And just like we first reported a week ago, the DROIDX2 by Motorola will launch May 19 for online orders and in stores May 26 for $199.  It will NOT launch with Gingerbread as we called just days ago, but will be upgraded at some point which we're thinking is in the very near future.  It has HDMI mirroring, a dual-core Tegra 2 processor, qHD 4.3″ screen, 512MB of RAM, 8GB on-board storage, 8GB pre-installed SD card, and a 8MP camera.  It should be a beast of a phone – if only it had that front-facing camera and the power of 4G LTE though, right?
Is this your next phone?   
DROID X2 By Motorola Coming To Verizon Wireless With Double The Power, Double The DoesFast and Powerful DROID X2 by Motorola With Broad Range Of

New Features To Be Available Online Beginning May 19

BASKING RIDGE, NJ, and LIBERTYVILLE, IL — Verizon Wireless and Motorola Mobility, Inc. (NYSE: MMI), today announced the second-generation DROID X2 by Motorola, designed for the consumer who does everything on their smartphone.

Fly through the Web with the DROID X2, which boasts Verizon Wireless' first dual-core 1 GHz processor for fast webpage loading and Adobe® Flash® Player, allowing Verizon Wireless customers to experience rich content online. The 4.3-inch scratch-resistant and anti-reflective qHD display delivers a sharp, clear view ideal for watching movies, typing emails and playing your favorite games. Never miss a moment using the 8-megapixel camera with continuous autofocus and stunning HD video capture. Use the new Gallery app to view, tag and post photos on sites like Flickr® and Facebook®, all from one place.

Additional features:

Powered by Android 2.2, to be updated to Android 2.3
Mirror Mode allows you to view and share your photos, videos and downloaded movies on a larger TV via HDMI output
Enterprise-ready with security and IT-grade policies, allowing you to use your DROID X2 for work and play
Support for Google™ Mobile Services, including Gmail™, YouTube™, Google Talk™, Google Search™ and Google Maps™, as well as access to more than 200,000 apps available to download from Android Market™
Mobile Hotspot capability, allowing you to share your 3G connection with up to five Wi-Fi-enabled devices
Virtual QWERTY keyboard featuring SWYPE technology for quick and easy typing of messages and emails

Pricing and availability:

The DROID X2 will be available online atwww.verizonwireless.com on May 19 and in Verizon Wireless Communication Stores on May 26 for $199.99 with a new two-year customer agreement.
DROID X2 customers will need to subscribe to a Verizon Wireless Nationwide Talk plan and a smartphone data package. Nationwide Talk plans begin at $39.99 for monthly access and an unlimited smartphone data plan is $29.99 for monthly access.

For more information on Verizon Wireless products and services, visit a Verizon Wireless Communications Store, call 1-800-2 JOIN IN or go to www.verizonwireless.com.

About Verizon Wireless
Verizon Wireless operates the nation's fastest, most advanced 4G network and largest, most reliable 3G network. The company serves 104 million total wireless connections, including more than 88 million retail customers. Headquartered in Basking Ridge, N.J., with 85,000 employees nationwide, Verizon Wireless is a joint venture of Verizon Communications (NYSE, NASDAQ: VZ) and Vodafone (LSE, NASDAQ: VOD). For more information, visitwww.verizonwireless.com. To preview and request broadcast-quality video footage and high-resolution stills of Verizon Wireless operations, log on to the Verizon Wireless Multimedia Library atwww.verizonwireless.com/multimedia.

About Motorola Mobility
Motorola Mobility, Inc. (NYSE: MMI) fuses innovative technology with human insights to create experiences that simplify, connect and enrich people's lives. Our portfolio includes converged mobile devices such as smartphones and tablets; wireless accessories; end-to-end video and data delivery; and management solutions, including set-tops and data-access devices. For more information, visit motorola.com/mobility.

MOTOROLA and the Stylized M Logo are registered trademarks of Motorola Trademark Holdings, LLC. DROID™ and related properties are trademarks and/or copyrights, in the United States and other countries, of Lucasfilm Ltd. and/or its affiliates. TM & © Lucasfilm Ltd. All rights reserved. Used under license. Facebook is a trademark of Facebook, Inc. Adobe and Adobe Flash are trademarks of Adobe Systems Incorporated in the United States and other countries. Flickr is a trademark of Yahoo, Inc. Android, Google, Gmail, YouTube, Google Talk, Google Search, Google Maps and Android Market are trademarks of Google, Inc. All other trademarks are the property of their respective owners. © 2011 Motorola Mobility, Inc. All rights reserved.