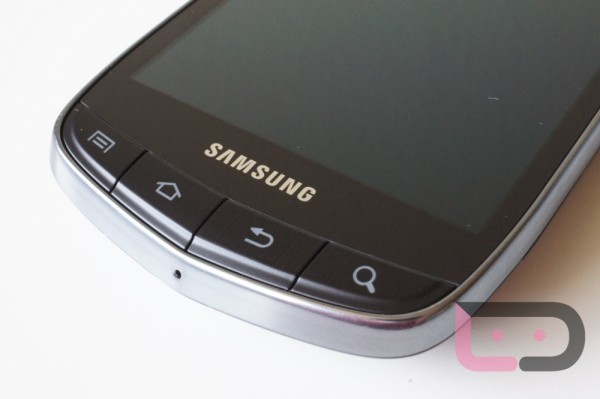 Ahhh yes, the first ever 4G LTE "DROID" has landed.  After a couple of weeks of delays to make sure Verizon's new network was stable enough for it, the DROID Charge by Samsung is available for purchase at the arguably high price of $300 on a 2-year contract.  It's a device we saw go nameless for months, but one that eventually found its way into our favorite brand of smartphones.  Can it live up to that exclusive name though?  Normally when a new phone comes out with the "DROID" brand on it, we expect it to dominate, so let's see if the Charge can.  
The Good:
Screen:  There is no denying that the 4.3″ Super AMOLED Plus screen on the DROID Charge is a thing of beauty.  As the first device in the U.S. to sport one, you at least have that to brag to your friends about.  The colors are incredibly vibrant and do wonders even in outside light.
4G LTE:  Who doesn't love ridiculously fast download and upload speeds on their handheld device?  While in San Francisco last week for Google I/O, this and the Thunderbolt allowed me to continue to pump out stories while the spotty WiFi connections tried to bring me down.  As long as you are in a 4G LTE area, you are going to love having this in your pocket.  Oh, and they extended the free hotspot offer through June 15!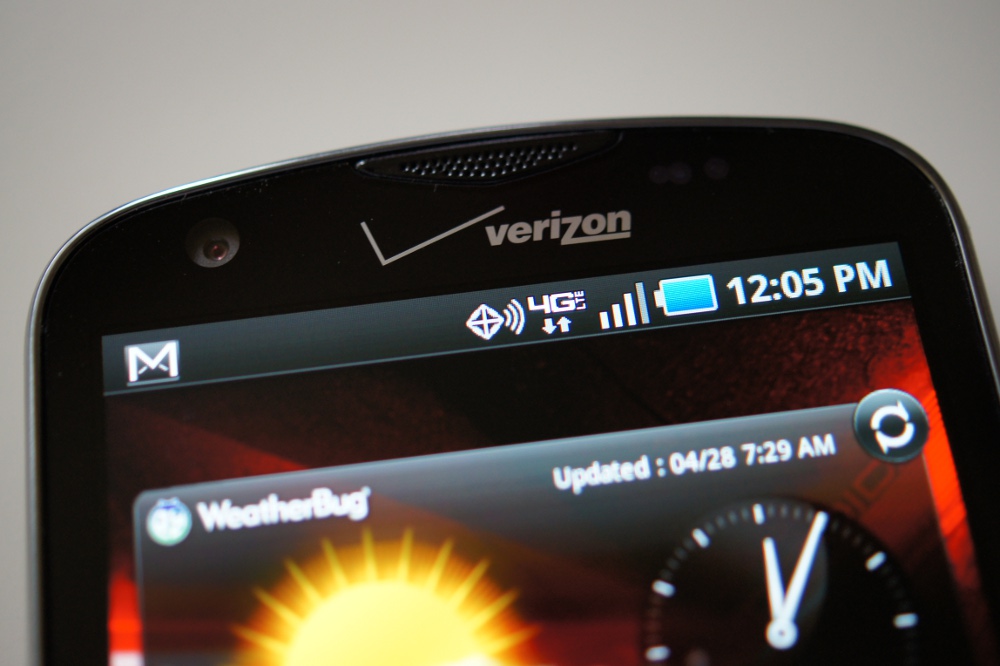 Battery:  Well, it's not the greatest battery on the planet, but when we compare it to the Thunderbolt, it's a winner.  My device suffered from signal issues for the first couple of weeks while Verizon tweaked their new network and the Charge cruised through it all.
Camera:  The Charge has an above average 8MP camera.  Someone tell Motorola to kang whatever Sammie is doing with their cameras, because it's nothing but right.  Check out the two shots below which have been untouched aside from resizing.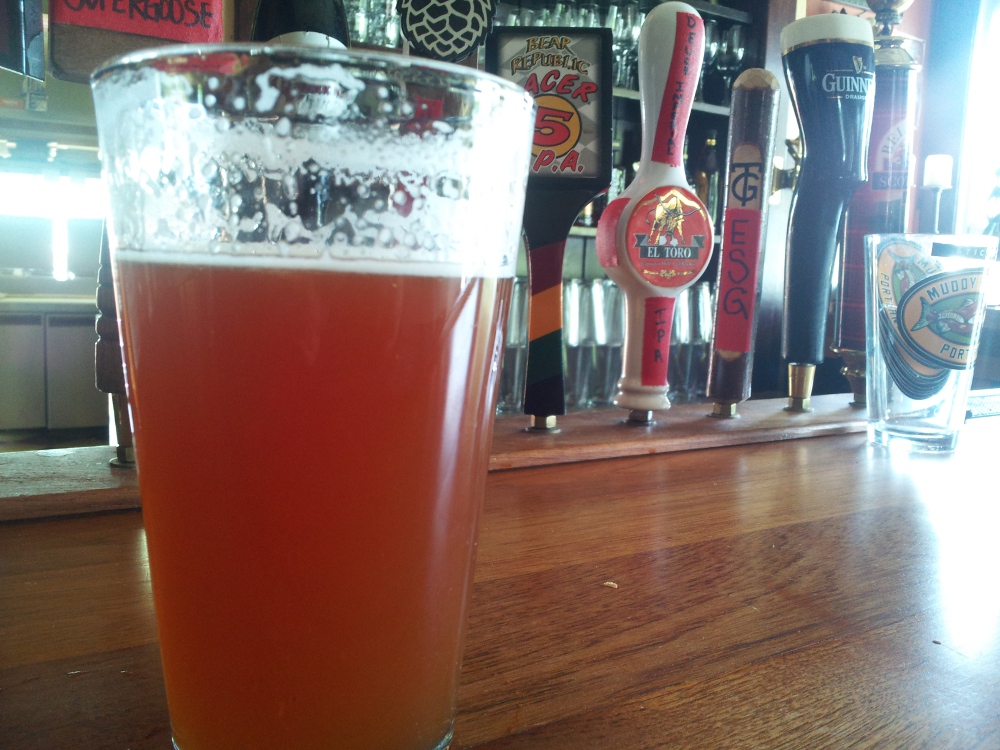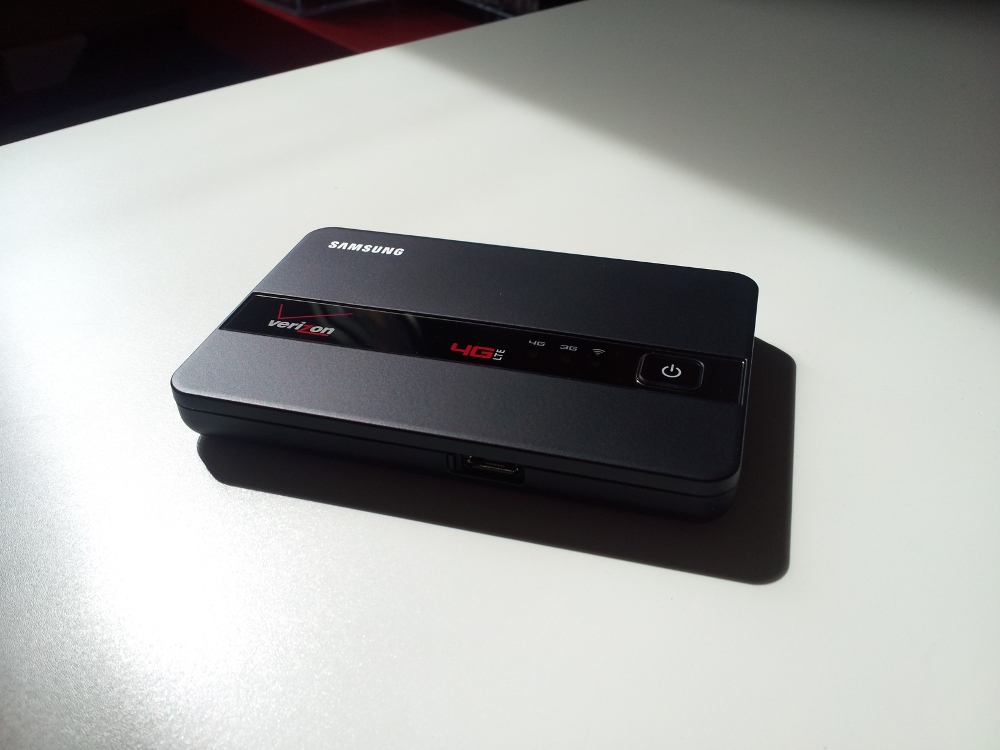 HDMI mirroring:  The Charge has full HDMI mirroring and it definitely works well.  Plug in your device, switch your TV over and BAM!  In seconds you are up and running your device on your big ol' screen TV.
Feel:  The weight of this device is pretty exceptional.  It's definitely made out of 100% plastic which we'll talk more about later, but in your hand anyways, it feels pretty good.  The size isn't too intense coming from a Thunderbolt or DROIDX, and with it being lighter than both, it's definitely manageable.
Notification pulldown:  This may sound like a simple little "Good", but I love the fact that TouchWiz puts your toggles into the notification bar.  HTC is doing this with Sense 2.1+, but Samsung has been doing it for a while.  I still hate TouchWiz, but they at least got this one thing right.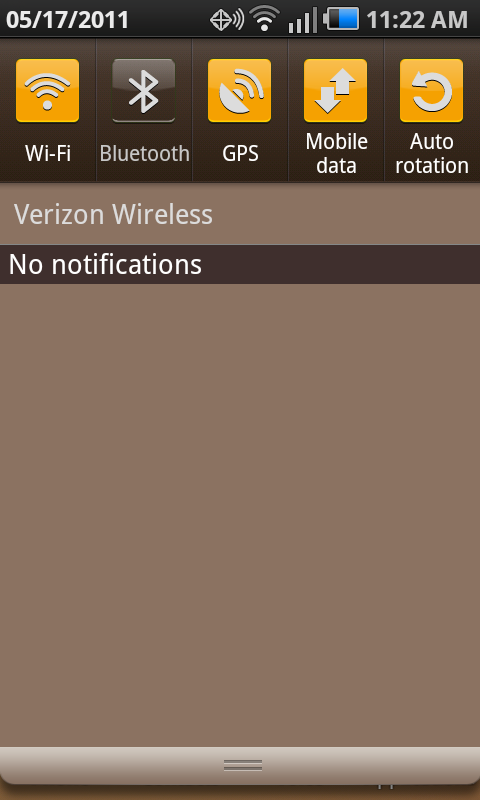 Video chatting:  The front-facing camera on the Charge is 1.3MP and allows for pretty decent video chatting with friends.  We would have loved to see Android 2.3.4 and Google Talk on there, but only 1 device currently has that.  There are plenty of options out there to choose from though, so we have to give them props for at least going beyond VGA.
The Not-so-Good:
TouchWiz:  I know that many of you despise Motorola's Blur, but I'm hear to tell you that nothing is as bad as Samsung's TouchWiz.  It's an iOS ripoff that makes even decent hardware chug along at a pace not seen since 2007.  It's buggy, appears to be designed by a children's book company, and can't be masked by LauncherPro fast enough.  If there was a ever a reason to start the "We want stock only!" petition, this would be it.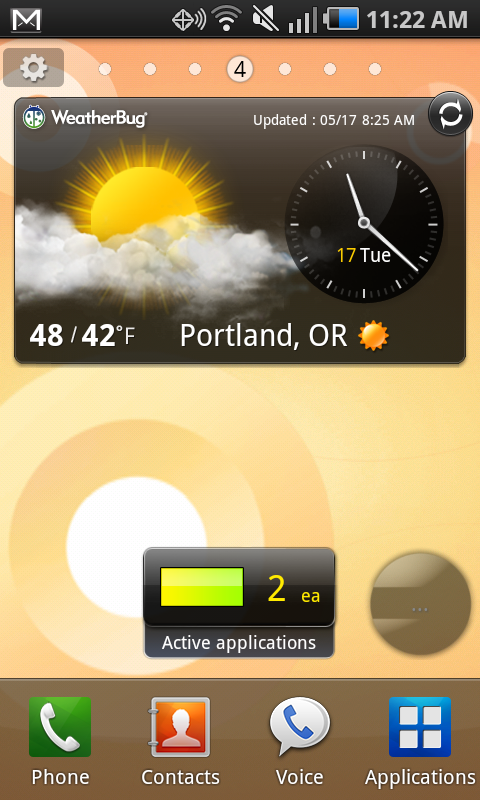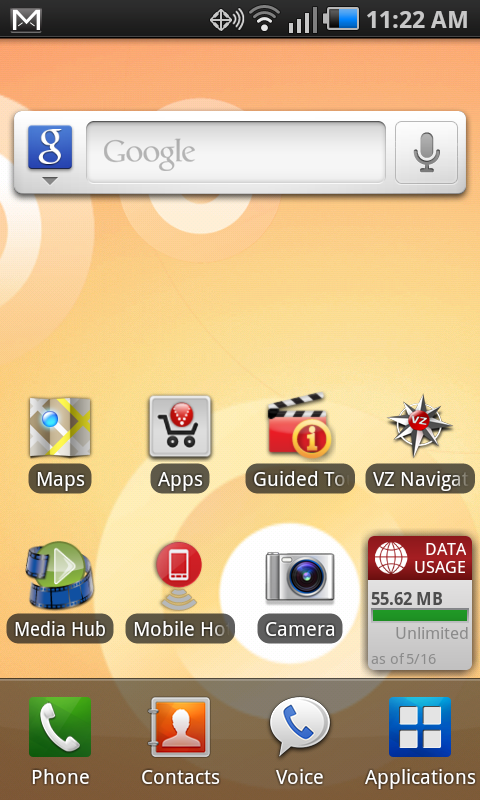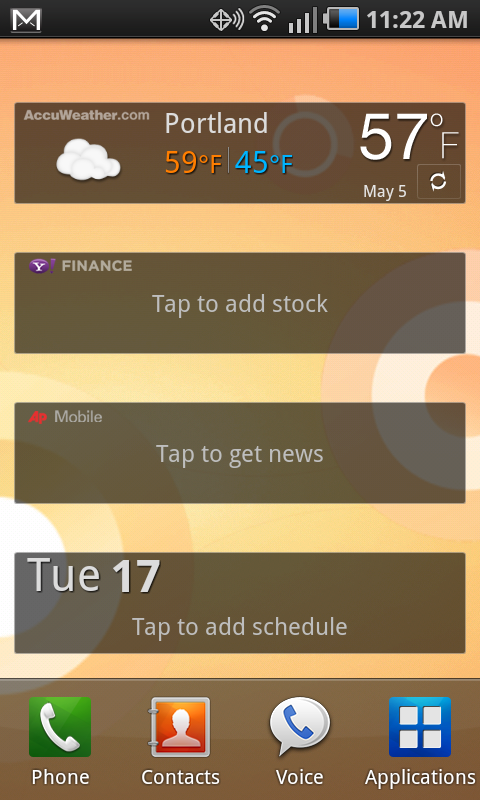 Old hardware:  If this was worthy of the "DROID" tag, it should have had something other than the same guts as the Samsung Fascinate which came out in 2010.  Sure, they added a front facing camera and an 8MP shooter on the back, but the rest of it is all the same including that god awful RFS file system.  Where is the dual-core?  The massive amounts of RAM?
Plastic casing:  The device is made of plastic and isn't going to last you 2 years.  I've had it for about a month now and already managed to scuff the edges from simply pulling it in and out of my pocket.  I haven't seen this happen on any other device in the life of this blog.  At least when HTC makes a phone out of plastic, it almost feels like metal and not like something your 2-year old will crush in less than a minute.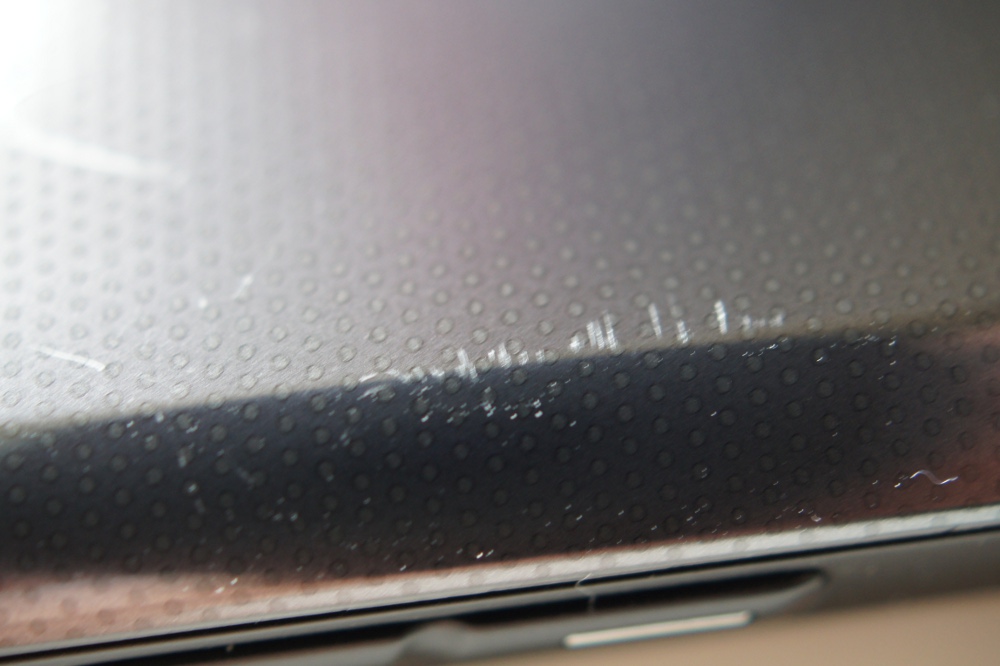 Android 2.2:  As I've said with every Verizon device over the last couple of months, it's almost sickening to see them launching with Android 2.2.  Gingerbread has been out for almost 6 months now, yet we're releasing phones with one that came out a year ago?  Just wait and see how happy new Charge owners are going to be when the entire DROID lineup from Motorola has GB by the end of June and it's still sitting at 2.2.
Verizon Bloatware:  The amount of bloatware that Verizon tossed onto this thing is intense.  I'm not sure I can even count that high to tell you the truth.  While we're no longer surprised that they will continue to fill up Android devices with this crap, we'll still point it out so that Big Red doesn't forget how much we hate it.
Look:  This is a personal thing, but I'm not a fan of the Alienware-esque exterior of this phone.  The hump on the back doesn't allow the phone to lay flat on a desk, the pointy shield speaker/camera housing/chin all remind me of something from Star Trek, and those massive physical buttons just seem well, silly.
"DROID" tag:  You get the feeling that since the original Bionic was delayed, that Verizon panicked because they no longer had a 4G LTE "DROID" and decided to slap the tag on this phone.  Sure, the marketing campaign is super slick, but this device should never have donned this elite tag.
Slow wake time:  It may sound like I'm nitpicking here, but when you press the unlock button on your phone, it shouldn't take 3 seconds for it to come on.  Such is the case with the Charge and I still can't figure out why.
Unboxing:
Benchmarks:
Gallery:
The Verdict:
I'm going to be perfectly honest and blunt here – this phone has no business having the "DROID" tag next to it.  Is it an above average device with a few stand out specs?  You betcha it is.  Is it capable of dominating the smartphone landscape for the next 1 or 2 years?  Not a chance.  While we came away incredibly impressed by the Super AMOLED Plus screen, camera, and battery, we struggled to come up with much else to love about it.  The alien-inspired look is not our thing (but may be for some) nor are the oversized physical home keys.  We're also becoming increasingly sick of seeing phones launching with Android 2.2 which is now a year old and custom skins that make phones feel like they were manufactured by monkies.
So should you buy the DROID Charge?  At $300 on a 2-year contract it would be tough for me to tell you to do that.  If this phone launched somewhere around $199, I'd tell you to seriously consider it, but unfortunately that's not the case.  The plastic exterior has me questioning just how long this device will stand up to daily wear and tear and of course there are still questions about Samsung's OS update support.
Is it time for carriers and phone manufacturers to stop releasing last year's tech with this year's marketing slogan?  I'd say so.
DROID Charge Specs | Other DROID Charge Coverage