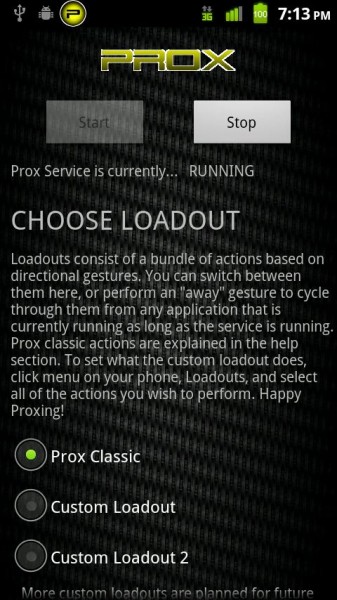 Amazon's Free app of the day is Chuzzle, but we're skipping it again in favor of an independent developer.
We were turned onto an app called Prox over the weekend that utilizes the proximity sensor of your phone to complete actions.  It's like using the Force to make your phone complete magic tricks such as opening the app drawer or pulling down the notification bar.  Prox pairs your accelerometer to your proximity sensor, and then lets you swipe in front of it at different angles to initiate different tasks.  It's a pretty cool concept that we'll be following closely to see where this dev plans to take it.
Think of tilting your phone towards you and then swiping in front of the sensor to pop up  your browser. You could then lay it flat and swipe again to open the camera, followed by a tilt left to jump to Facebook and finish it off with a tilt right to jump back home.  Seeing the possibilities?  And if that made no sense at all, we've attached a video below that should walk you through it.  
*Note:  I was able to bypass my lockscreen with Prox enabled, so that'll need to be fixed.
*Note 2:  If you are having issues with the app, head over to the dev's site for support.
Market Link ($1.99) | Lite Version
*Note to developer:  We got the first email – should have stopped there.