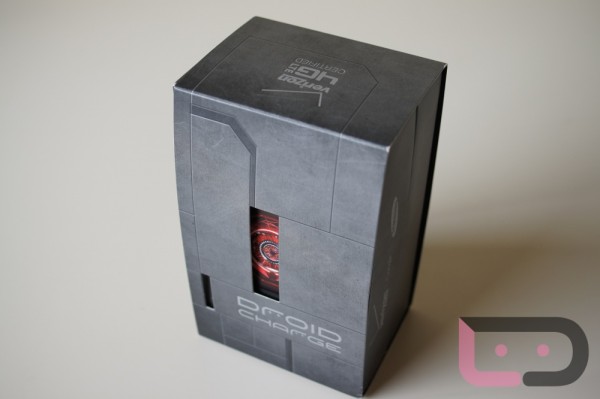 Well, you already all knew this information because we first reported it about 4 hours ago to the world, but it's now official from Verizon.  The DROID Charge and it's $300 price tag, single-core processor, and TouchWiz UI will be available tomorrow.
No reason was given for the delay in the press release, but we're guessing it had to do with the 3G issues we experienced.  Actually, we'll be the judge of that as we bust it back out for one more spin before we drop our review on you.
Anyone interested in this "DROID" still?  
Verizon wireless UNLEASHES DROID CHARGE BY SAMSUNG

DROID Charge Joins Verizon Wireless' Android Family

BASKING RIDGE, N.J. – Verizon Wireless and Samsung Telecommunications America (Samsung Mobile) today announced that the DROID Charge by Samsung will be available for purchase in Verizon Wireless Communications Stores and online at www.verizonwireless.com.

The DROID Charge is designed with Samsung's 4.3-inch Super AMOLED™ Plus display, setting a new touchscreen standard for brightness, clarity and outdoor visibility.  The DROID Charge is equipped with both a rear-facing 8-megapixel camera with LED flash and front-facing 1.3-megapixel camera for both stills and video chatting.  The smartphone's 1 GHz application processor and HTML 5 Web browser maximizes high-speed 4G LTE connectivity for faster downloads and graphics processing.

Additional features:

4G LTE – Customers can expect download speeds of 5 to 12 Mbps and upload speeds of 2 to 5 Mbps in 4G Mobile Broadband coverage area
Android 2.2 platform – Support for Google Mobile Services including Gmail™, YouTube™, Google Talk, Google Search, Google Maps and access to more than 200,000 apps available to download from Android Market™
Adobe® Flash® Player compatible
Mobile Hotspot capability – Share 4G connection with up to 10 Wi-Fi-enabled devices or a 3G connection with up to 5 devices

Samsung Media Hub – Samsung's own content service, offering a vast lineup of critically acclaimed films and TV programs for rent or purchase

Virtual QWERTY keyboard featuring Swype technology

Pricing and data plans:

The DROID Charge by Samsung will be available for $299.99 with a new two-year customer agreement.
DROID Charge customers will need to subscribe to a Verizon Wireless Nationwide Talk plan and a 4G LTE data package.  Nationwide Talk plans begin at $39.99 monthly access.  Unlimited 4G LTE data packages start at $29.99 monthly access.  Mobile Hotspot feature will be included for a limited time at no additional charge.

For more information about the DROID Charge by Samsung, visit www.droiddoes.com/charge.  For additional information on Verizon Wireless products and services, visit a Verizon Wireless Communications Store, call 1-800-2 JOIN IN or go to www.verizonwireless.com.

# # #

About Verizon Wireless
Verizon Wireless operates the nation's fastest, most advanced 4G network and largest, most reliable 3G network. The company serves 104 million total wireless connections, including more than 88 million retail customers.  Headquartered in Basking Ridge, N.J., with 85,000 employees nationwide, Verizon Wireless is a joint venture of Verizon Communications (NYSE, NASDAQ: VZ) and Vodafone (LSE, NASDAQ: VOD).  For more information, visit www.verizonwireless.com. To preview and request broadcast-quality video footage and high-resolution stills of Verizon Wireless operations, log on to the Verizon Wireless Multimedia Library at www.verizonwireless.com/multimedia.

About Samsung Telecommunications America

Samsung Telecommunications America, LLC, a Dallas-based subsidiary of Samsung Electronics Co., Ltd., researches, develops and markets wireless handsets and telecommunications products throughout North America. For more information, please visit www.samsung.com/us/mobile/cell-phones.