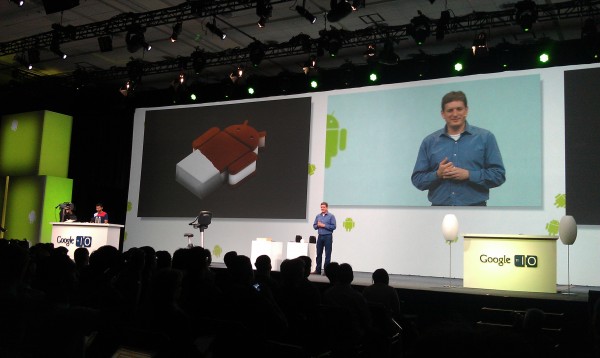 Not that this comes as a surprise to anyone, but the Google team announced today that the next edition of Android will indeed be called Ice Cream Sandwich.  No word on what the numbering scheme may be, but the excitement here is really the fact that they are working towards having an operating system that works on any device, no matter what the size or form factor.  In fact, they kept using the phrase "one OS everywhere" throughout much of today's opening I/O sessions.
Essentially what we'll see when this is released some time around Q4 of this year, is Honeycomb that's made for phones too.  Well, that's not totally correct.  We'll see a lot of the fun new features from Honeycomb ported over to ICS including the new holographic UI, launcher, and widgets, so that you can enjoy everything from the tablet experience on smaller devices as well.
Oh, they also gave us the fancy new logo/mascot which you can see in the photo above.
For more from the day 1 keynote, check out our live blog.