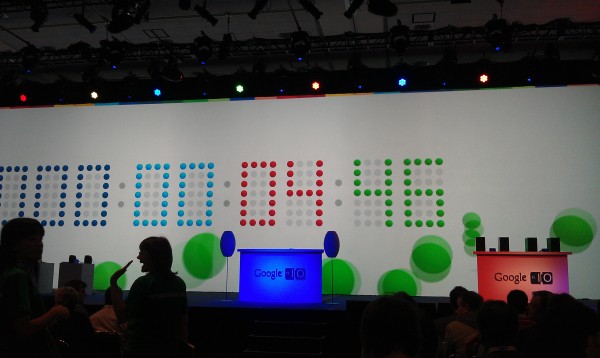 So as you can see, we are in the I/O arena, ready to watch Google do work.  Be sure to follow along here if you can't watch the live stream that will be up at this site (here too).  We'll be tossing out notes that we find extra spicy.  
8:48AM – We're still 10 minutes away from go live here, but until then, we wanted to make sure everyone heads over to the Google Music Beta site that is live.  Invitations appear to be open!
9:00AM – And here we go!
9:01AM – Vic Gundotra is on stage…
9:02AM – For those not watching live, he's just covering the last year and how awesome Android has been.  He's also touching on the fact that they are streaming this world-wide.
9:03AM – Hugo Barra on stage now to kick off the Android keynote.  Here we go!
9:05AM – 100 million Android activations as of today. 36 OEMs. 450K developers.  Activating over 400K devices every single day.  200K+ applications in the market.  4.5 billion application installs.
9:10AM – Android 3.1 (Honeycomb) is being released today to the Verizon XOOM.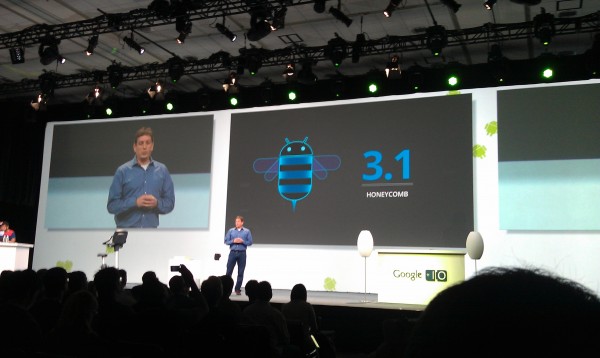 9:11AM – Demo time.  New 3.1 features…resizable widgets!  Android is now a USB host so you can transfer photos, use keyboards, mice, game controllers and more.
9:13AM – Honeycomb coming to Google TV this summer!  Plus the Android Market.  Current GTV owners will receive the update over the air.
9:13AM – Ice Cream Sandwich coming Q4.  Here is the logo.  The goal is make it one OS that can run on anything, just as was speculated on a month or so ago.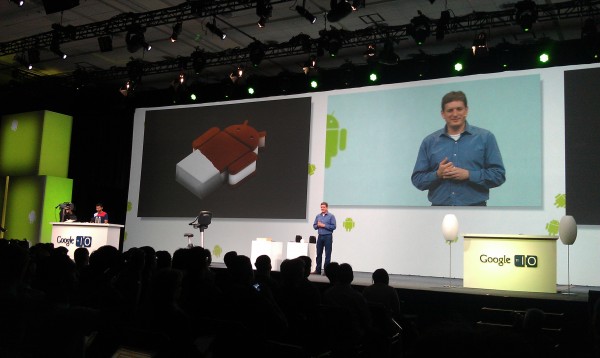 9:16AM – OpenGL facial recognition software…
9:20AM – Shifting topics to media.  Cloud Services team is on stage, meaning it's Google Music time.  Or not…they announced a movie store in the market!  Pricing starting around $1.99.  All will be attached to your Google account just like Books and Apps are.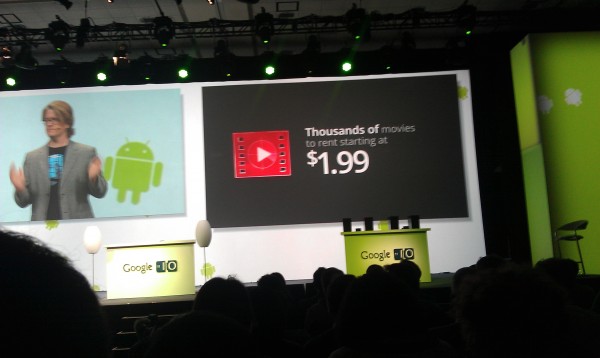 9:22AM – Movies will be stored in the cloud, but you can also "pin" them so that you can play them offline as well.  You can purchase via browser-based market and also through tablets and phones.  New Movie availability will come with Android 3.1 for the XOOM today.  It's also live right now through the browser.
9:26AM – Music Beta made official.
9:27AM – Music Manager software will go on your computer to help you upload your collection.  You can then control everything from the browser which includes making playlists and of course playing music.
9:30AM – Phones and tablets obviously have access to the new cloud music service.  Point made that since it is attached to your Google account, your music collection is available from all of your devices including new ones.
9:31AM – Music Beta launching today by invitation only.  20,000 songs can be added and it's free (at least while it's in beta).  All I/O attendees get an invitation!
9:32AM – The new Android music player will also be released today.  It works on 2.2+ devices.
9:34AM – You are looking at the companies that have signed on to work with a new team that will make sure phones and tablets receive timely updates.  This might be the biggest news of the day.
9:37AM – Open Android Accessory plan announced.  They are showing a demo of how you can connect your phone to say an exercise bike which would then launch an app to make your workout awesome.  Idea is to create compatibility of apps and handsets with "accessories."
9:39AM – Demoing a development kit for for this Open Accessory plan on a maze toy.  And then they showed video of a tablet controlling a room sized maze.  More info here.
9:43AM – More on Android accessories, this time for your home.  Basically includes Android controlling your entire home including dishwashers, lights, and any appliance you can think of.
9:46AM – Already partnering with companies to get involved in this Android @ Home movement.  Lighting Science is preparing LED bulbs and software that will work with Android @ Home.
9:52AM – And we're all getting the new Samsung Galaxy Tab 10.1.  Looks like the sexy white version.  It'll hit our hands with 3.0, but should get 3.1 in the next couple of weeks.
9:54AM – And we will also have new Android Market announcements coming tomorrow.  That's a wrap!
…