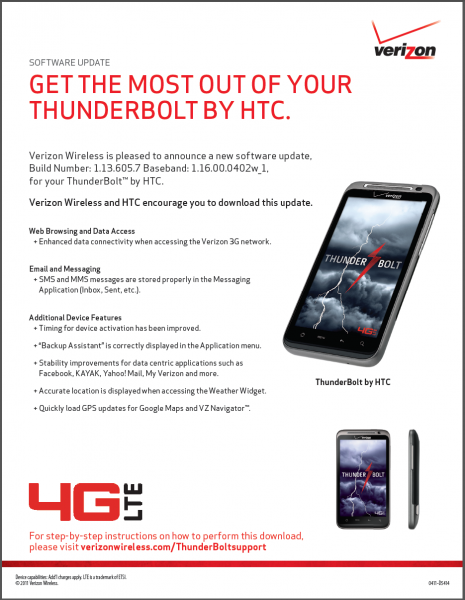 We were wondering when Verizon was going to ready this update for the HTC Thunderbolt as it has been in the works and talked about behind the scenes for weeks now.  The update is 22.28MB and will enhance connectivity to Big Red's 3G network and also help load times for GPS updates on Google Maps.  There are some other minor bug fixes in there for SMS and such, but the connectivity is huge.
After the update, you will be on version 1.13.605.7 and your baseband will remain the same.  
Web Browsing and Data Access
+ Enhanced data connectivity when accessing the Verizon 3G network.

Email and Messaging
+ SMS and MMS messages are stored properly in the MessagingApplication (Inbox, Sent, etc.).

Additional Device Features
+ Timing for device activation has been improved.
+ "Backup Assistant" is correctly displayed in the Application menu.
+ Stability improvements for data centric applications such as Facebook, KAYAK, Yahoo! Mail, My Verizon and more.
+ Accurate location is displayed when accessing the Weather Widget.
+ Quickly load GPS updates for Google Maps and VZ Navigator™.
Cheers everyone!