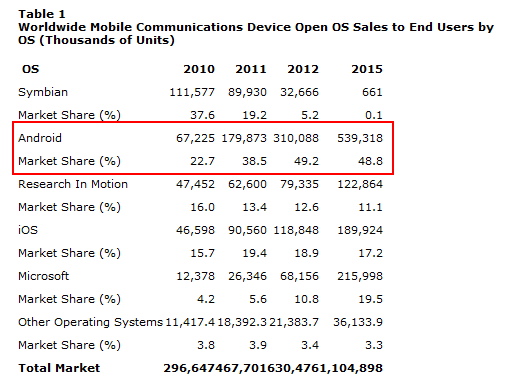 Android has already seized control of the U.S. smartphone market, but by the end of this year it will have grabbed a hold of the global market as well according to Gartner.  And by the end of 2012, it should have a stranglehold on almost 50% of it if their predictions are at all correct.  Let me just say that one more time – 50% of the world's smartphones will be running Android.
A whole barrage of thoughts have been running through my head since reading this information this morning, but I'd love to hear what this means to all of you.  Does it make Android any less attractive?  Are we still the cool kids?  Early adopters?  Are you all proud to be #1 now?  It just seems like Android is only getting started, so even if it is the number 1 mobile OS now or will be very soon, I still feel like we're all on to something new and fresh.  This is a product that has so much room for growth, yet it's already throwing knockout punches to the competition.  Your thoughts?
Via:  Gartner
______________________
Some of our best videos.