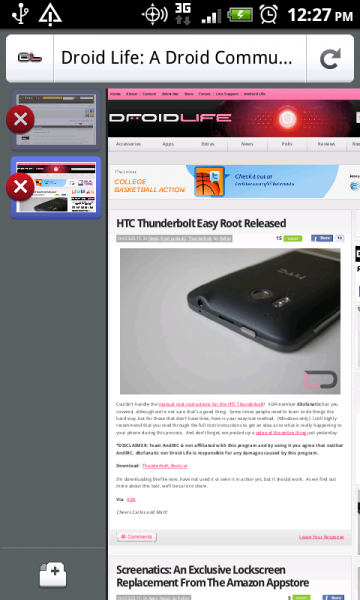 Mozilla just popped out an announcement for Firefox on Android, making the current version in the market the official version and that's really all that has changed since the release candidate that dropped last week.  In fact, it's changed so little, that my market hasn't even asked me to update the version from last week to make it really official.  Weird, I know.
So yeah…ummm, this is official Firefox.  Anyone using it?  I was most definitely high on the browser last week when it came out, but after spending an entire week and weekend with it, I'm not longer using it.  It's just not ready to compete with the Dolphins of the world yet, although it could be at some point down the road.  It has some really great features built into it with a superb UI and PC browser syncing (wait people use Firefox on PCs?), but the lack of Flash support plus some other little annoyances (like awful zoom rendering) have me back to a much lighter browser.  I promise to be back for version 4.1 though.
Intro video after the break.   Download Link.  
Via:  Mozilla Blog