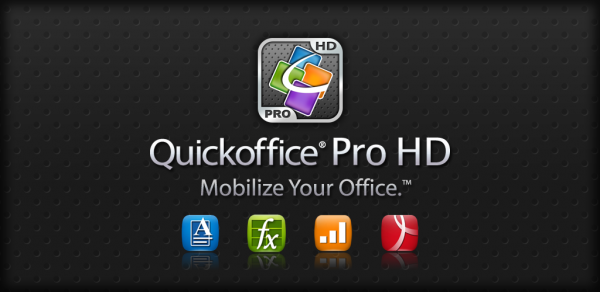 QuickOffice Pro HD for Honeycomb is now available for the business users in the building.  It's starting out at an introductory price of $14.99 (regularly $24.99), but if you signed up for that 30% off discount we shared a week or so ago, you may be able to get it even cheaper once those codes are sent out since they claim it will work on the "introductory" price.    
I grabbed it so that I could snap a few screenshots for everyone, and while bloggers and online writers definitely don't get dirty in spreadsheets all that often, it's obvious that this is going to be a great app.  Here is a description pulled from the market to give you an idea of its uses:
…ability to CREATE, VIEW, and EDIT, Microsoft® Office files including Word documents, Excel spreadsheets, and PowerPoint presentations. Conveniently ACCESS files remotely from your Google® Docs, Dropbox, Box, Huddle™, SugarSync, and MobileMe™ accounts or from your SD card using our Connect File Manager with SmartTouch™ technology. Also included is our advanced PDF viewer.
And here are the key features:
✔ Clipboard access (cut/copy/paste in app and between apps)
✔ Undo / redo most user actions
✔ Insert and resize images from gallery or camera in Word and PowerPoint files
✔ Text-to-speech document recital and voice input dictation
✔ Thumbnail preview scrolling for multi-page documents
✔ Improved toolbar and performance enhancements
✔ Paragraph alignment in documents
✔ Edit speaker notes in presentations
✔ Share files from via e-mail
✔ Support for advanced formulas and charts in Excel files
✔ Edit in page layout mode and thumbnail page navigation in documents
✔ Add, delete, and rename worksheets in Excel files
✔ Apply formulas to multiple cells by tapping and dragging
✔ Move & resize text boxes, images, and shapes
The file system and remote access services:
Word document:
Spreadsheet:
PowerPoint:
Download Link ($14.99)
Cheers Omar!