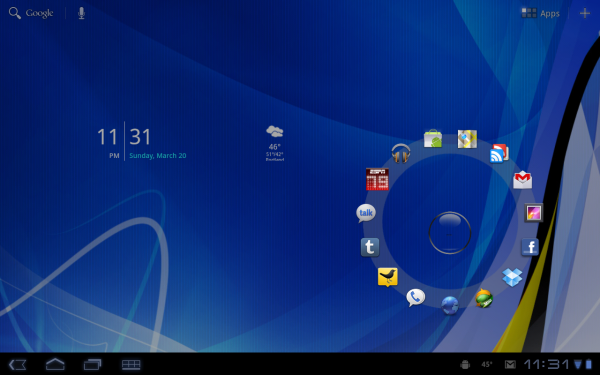 We're still pretty big fans of CircleLauncher, so when an update for it popped up in our market showing that it has "beta" support for tablets and a growing circle, we were excited.  One of the constant problems with this app was the cramped feel and warning you got when loading up around 9 or so apps.  That is no longer an issue after this update.  The circle starts expanding as you add more apps, giving you a lot of flexibility with your CL widgets.
Other enhancements:
Growing launcher circle:  the size depends on the selected item count
HD support for CircleLauncher icon packs from the Market
Revised configuration dialogs
Settings icon removed
Better support for tablets and Honeycomb (beta)
To get that clear circle icon you see above, you have to download the official CircleLauncher icon pack, which for some reason costs $1.34.