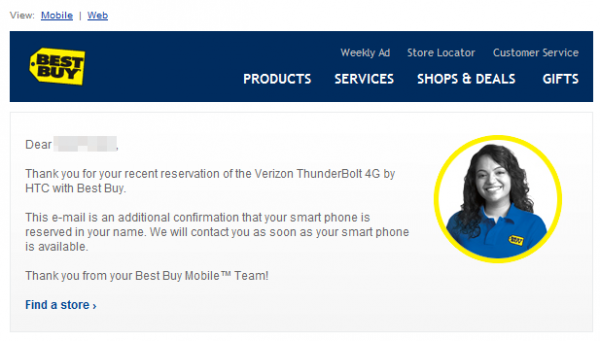 Time to fire up the Friday Thunderbolt rumor engine!
As you can see from the picture above, Best Buy (after an entire month) is reminding customers via email that they pre-ordered an HTC Thunderbolt.  While there is absolutely zero mention of a release date in these emails, the timing fits into the March 17th release date that has been floating around for the last week or so.  It's also the first word we've heard from them on the TBolt's status since back in February.
And to add to the Best Buy fodder, it sounds like district managers were notified today of their stock quantities for launch.  They are expecting enough in stores to match the number of pre-orders accepted plus another 5-10 for walk-ins.  No date given, but store orders are usually a good sign.
Oh, we also heard that the 18th could be the day, so we've updated the TBolt teaser knockoff below and will add it to our ridiculously long list of dates that will probably all be wrong.  
February 14, 17, 24. March 3, 10, 17, 18, 21.  Hypebeast baby.
Cheers Mark, Dan, D and @Rob_toast!