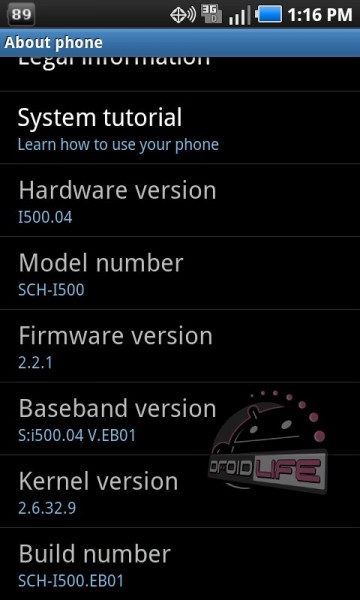 We received word from one of our Verizon friends late last week suggesting that the official Froyo (Android 2.2) build for the Samsung Fascinate is not version DL30 that was leaked out last week, but will instead be build EB01.  As many of you are aware, DL30 was quite the buggy mess, but that's not what we're hearing that with this new version which we're hoping means it'll be out fairly soon.  You'll see in our gallery that all of the bloatware that you love so much is in tact and Bing is definitely still the default search app.  The good news is that you can all finally download the Google Search and Voice Action app to counteract it.
Changelog and a whole bunch of screenshots after the break.   
Here is the changelog:
1. Updated to support the Google Froyo 2.2 software
2. Added support for SMS Delivery acknowledgement
3. Addressed an issue seen in some cases were users would lose their data connection and have to either power cycle or turn on and off airplane mode to recover
4. A UI change was made to correct the spelling of "Dialled Calls" in the dialer app.
5. Addressed an issue where the speaker button was not working when connected to a Bluetooth device.
6. A software change was made to enhance the reliability of the syncing of IMAP and POP 3 e-mails accounts
7. You can now move messages between folders in the exchange mail client
8. Addressed an issue found when connected to the car dock and you turn off the back light the connection defaults to the speakerphone when you turn the back light back on
9. Addressed a "force close" error message seen when you select "delete all" in your sent or trash folders in your exchange e-mail account
10. You can now save a contact you found using a Global Address Look up.
11. Addressed an issue found when using Bing Voice search causing the device to give the error message "thinking" and "make sure you are connected to a network and try again".
12. When using the Voice Command application it will not display duplicate names and numbers for the same contact that was found from multiple sources.
13. Addressed an issue when using the Desktop dock which in some cases was causing the idle screen image to appear to be burned into the screen
14. The color scheme in the calendar has been changed
15. Enhancements were made to improve the update consistency of the feeds and widgets
16. Protected Media licenses are now stored on the memory card so if the device is factory reset these protected content licenses will not be lost
17. The Swype application will no longer capitalize letters inappropriately
The gallery:

And yes, it was rooted using current methods.