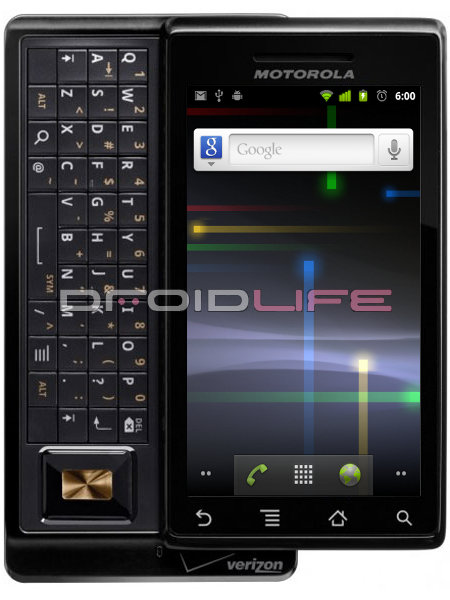 Motorola is preparing a "small software update" for the original DROID that will go out to a select number of users in their Feedback Network over the next day or so.  The update is definitely not Gingerbread (Android 2.3) or they wouldn't be classifying it as "small."
Hi.

We've learned recently that the original Droid will soon get a small software update. A limited number of owners will receive the update as part of a pre-launch "soak" test before it's more widely released. This has become standard practice, so we can observe for a few days to make sure there are no hidden problems before wide release.

There is a window of opportunity to be included in the pre-launch soak if you like. We would appreciate it if you would, and then provide us with some brief feedback on the update. Simply take this very short registration survey to sign up. Unfortunately, we have to provide a list very soon, so please take the survey right away if you are interested. There are a limited – but generous — number of slots available.

(If you now own a different Motorola phone and wish to update your Motorola Feedback Network information, please click here.)

Thanks for your participation in the Motorola Feedback Network.

– Matt
Motorola Owners' Forums
Motorola Feedback Network
We're guessing it'll be 2.2.2 which is the same update the Nexus One saw just last week.  So if you are a part of the Moto Feedback Network, start checking your inboxes for instructions and be sure to let the rest of us know how it goes.
After it passes all of the tests, and we're it will, it will probably spread to the masses on Verizon within the next 2 weeks.
Cheers M!
______________________
Some of our best videos.