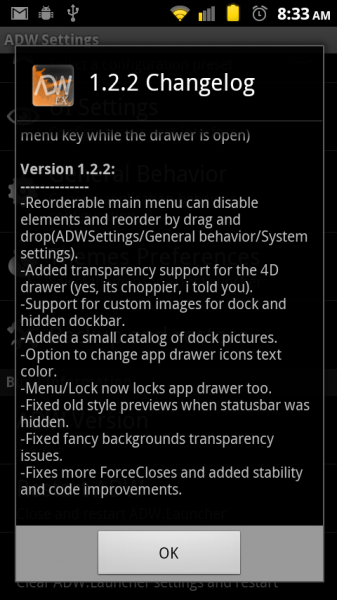 An update for ADW EX is available and brings a feature that many of you have been waiting for, support for custom docks.  Some additional tweaks were also added that allow even more customization, but the docks are the star of the show this time.  In fact, a small catalog of docks was included which you can see pictured above.  It's hard to think that this home replacement could get any better, but I'm sure it will.
To access the custom docks:  Menu>ADW Settings>UI Settings>Main Dock>Dock Background
Full changelog below.  
Recent changes:
-Reorderable main menu can disable elements and reorder by drag and drop(ADWSettings/General behavior/System settings)
-Added transparency support for the 4D drawer (yes, it's choppier, I told you)
-Support for custom images for dock and hidden dockbar
-Added a small catalog of dock pictures
-Option to change app drawer icons text color
-Menu/Lock now locks app drawer too
-Fixed old style previews when statusbar was hidden.
-Fixed fancy backgrounds transparency issues
-Fixes more "ForceCloses"