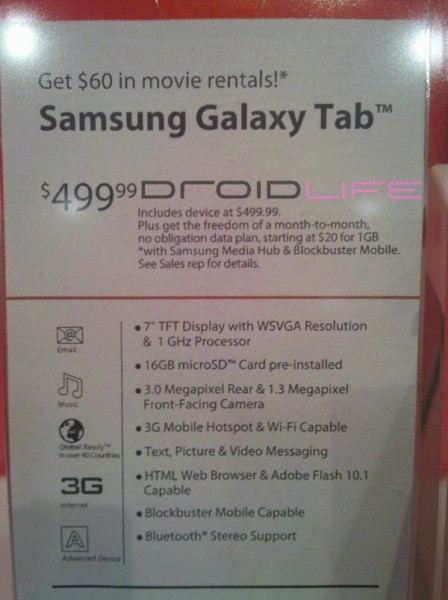 Is Verizon ringing in the New Year with a price drop to its Samsung Galaxy Tab (our review)?  According to one of our peeps and that picture above, stores should be changing out displays to reflect a $499 price change, plus an added bonus of $60 worth of free movie rentals through either the Blockbuster app or Media Hub.  Wait, weren't we just talking about a price drop being critical to the Gtab on Thursday?  Why yes we were.
Update:  We just confirmed through a second store connection.  They also pointed out that if any of you purchased a Galaxy Tab within the last 14 days for $599, you should head back into the store and get a refund of $100.  Sweet deal.
I should point out that I'm still seeing a $599 price point online in both Samsung's and Verizon's stores, so this could be a special in-store promotion or maybe it's just too damn early on New Year's Day for anyone to be caring about things like this.
Does $499 have you dying to buy one?
Cheers Daniel!