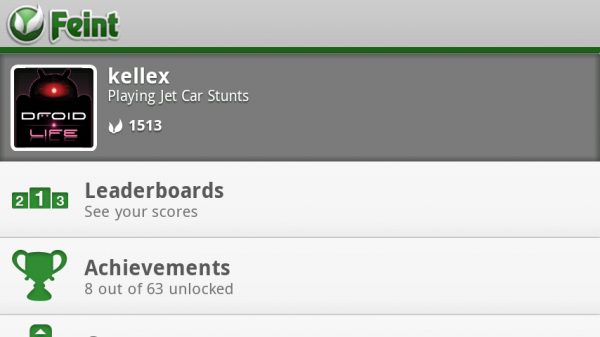 One of the great things about OpenFeint and their abundance of games, is the social aspect provided by their Feint platform.  Almost all of their games allow for some type of score uploading or achievement unlocking, but for me, that only becomes important when you have friends to battle it out with.  As I've been playing Jet Car Stunts like crazy over the last few days, I've also been checking on my friends' scores to see how badly I'm destroying them (hah!).  , "We should build a community of friends and use it to run gaming contests in the future!"  And that's exactly what we'll do!
All you have to do is friend us through your Feint profile, we'll accept and then it'll be time to start handing out some prizes.  As popular games are added to the market or if we just feel like popping up an old classic one day, we'll start spurt-of-the-moment contests that could last anywhere from an hour to a full day and at the end, we'll hand out fabulous prizes.  Sound fun?
Our Feint name:  kellex
And feel free to drop your Feint name in the comments so you can build up a solid friends list to see where you stack up in your gaming ventures.
Also look for some new Feint features to be built into the app in the near future that will add to this fun community we are trying to build.