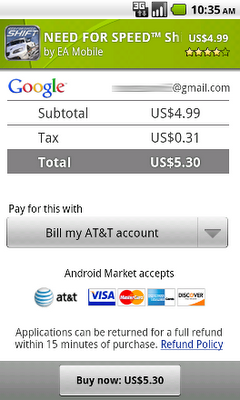 A new payment option which allows AT&T users to bill app purchases to their monthly statements has been rolling out over the last few days and has now been made official by the Android Developers Team.  I know that the majority of you are Verizon folks, but this is still a step in a great direction…
Today, I am pleased to announce the availability of AT&T Direct Carrier Billing for Android users on the AT&T network. AT&T Android users can now easily charge their Android Market purchases to their monthly accounts with only a few clicks. With the combination of Android Market's new app discovery features and a carrier-backed frictionless payment method, users will find it significantly easier to discover and purchase applications of their choice.

We strongly believe carrier billing is a great way to make it easy for users to purchase and pay for applications. In addition to the availability of AT&T and T-Mobile US carrier billing, we'll continue to to partner with more carriers to offer carrier billing options for their subscribers.
But wait, will Verizon users ever see this option?  Verizon already has its own app store with statement billing which would make a partnership with the Android Market seem contradictory.  And my excitement is gone again.