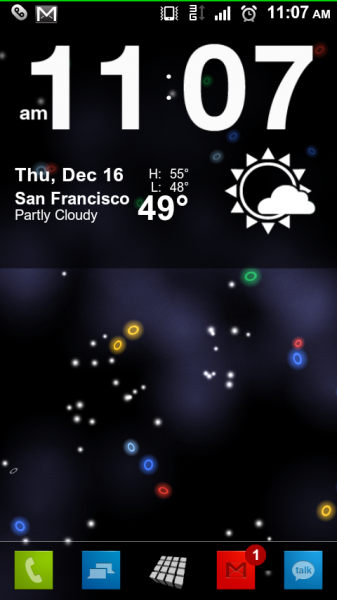 Our buddy Pete Alfonso, who gave everyone the first Gingerbread keyboard port is back, only this time with one of the new live wallpapers from the Nexus S.  The live paper is called Microbes and is a fun replacement for the Nexus light bar one we've seen so often.  It's interactive, looks pretty and seems like a mesh between a Galaxy S paper and one from the original Nexus device.
Update:  Here is the .apk version for ALL users courtesy of @Haxzamatic!  (Download)
Download:  MicrobesLWP.zip (alt link)
Instructions:
*Rooted users only.
1.  Download the file from above and drop it on your SD card.
2.  Boot your phone into Clockwork Recovery.
3.  Choose "install zip from sdcard."
4.  Then "choose  zip from sdcard" and find the MicrobesLWP.zip file.
*DROID X and 2 users, you will need to go into "mounts and storage" and "mount system" first.
5.  Select it, install it and enjoy!
Everyone be sure to thank Pete and follow him on Twitter!  @PeterAlfonso.  His website.