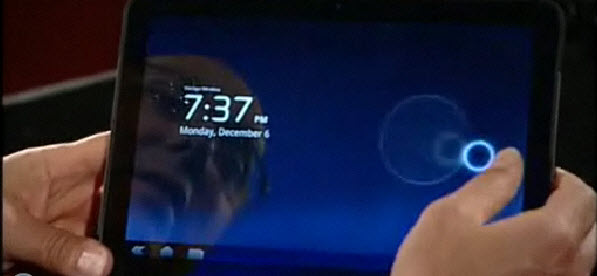 Did anyone actually think that a day filled with Gingerbread, the Nexus S, an original Droid update, and a Droid X update with Madden could get get better?  It did.  Last night, at the D: Dive Into Mobile conference, Andy Rubin took to the stage, pulled out a prototype Motorola tablet running Honeycomb (Android 3.0) and went to town.  He talked about so many things that may seem minor, but are so huge in the broad scheme of things.
Here are some of the bombs he dropped:
Pulled out what appeared to be the 10″ Motorola tablet.  This bad boy was ultra thin, looked incredibly light and had an amazing screen.
This tablet does not have home, back, menu and search keys.  The buttons you press are ALL on-screen, which means they follow you around as you rotate the device.
Showed the new Honeycomb lock screen which had a fantastic new animation.  No more swiping bars left or right in Android 3.0.  (Pictured above)
When he unlocked it, he had Google Talk open and mentioned video icons being visible.
He showed off Google Maps 5 which will have 3D views of cities.  It should be out for mobile devices in a few days.
The new tablet Gmail app was displayed.  Two columns included:  one for your inbox and one to view an email.
Honeycomb and this tablet will be out some time next year.
Honeycomb will be able to run on both phones and tablets.  It's not just specific to tablets although the apps are able to run in their own specific ways depending on the device.
He also mentioned that this prototype probably costs $10,000.  Hah.
Full video of his time on stage after the break, plus some screenshots.  
Gallery:
Via: All Things D
Cheers Lewis, Phil and Picolas!