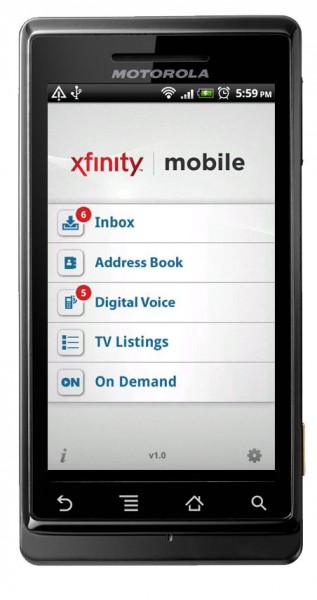 Comcast told us over the weekend that we could expect their Xfinity app on December 7th and they delivered.  The brand new app is available on the Android Market right now for free.  They'll be announcing it later today, but wanted to tip off Droid Life readers to its availability early.  
The full list of features:
Access home voicemail and forward home phone calls from your Xfinity Voice service directly to your Android device
Use the Xfinity mobile widget to quickly review your latest voicemail and email messages
Sync your Universal Address Book to have all your personal and professional contacts in one place
Review and respond to Comcast.net email
Remotely program and manage your DVRs
View local TV listings, sort by different categories and watch Video On Demand movie trailers.
Android specific features:
Widgets: lets you see the two most recent email and voice mail messages; listen to voice mail messages right from the widget.
Data Storage: android allows access to storage on the devices, so you can store attachments or other files and also upload files as attachments when sending email.
We're diving into the app now to see what how nice it really is and will report back.