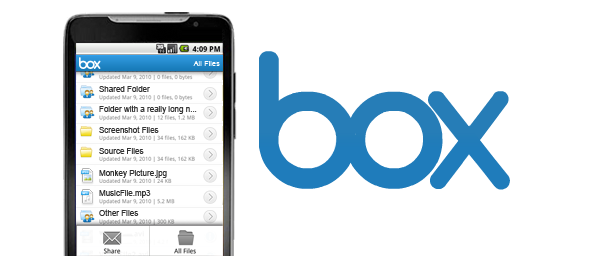 If you're like me, you like having a presence in the cloud for emergency storage. I keep all my writing tied to a Dropbox account, just in case an emergency happens; it's especially useful when I need to pull a resume out on-the-spot and all I have access to is a computer.
We've covered cloud apps like Dropbox and Zumodrive before, and I'll let you know about one more;  Box.net is a service that until now, has catered to small-to-medium businesses. After releasing its Android app earlier this year, Box.net announced that they'd be offering a staggering 5gb of cloud space to their free account holders. This is more than double the 2gb (before the 250mb/referral bonus kicks in) that Dropbox offers, and is generally a good deal.
In more recent news, however, Box's updated their Android app as of 9AM Pacific this morning, adding two major features: the ability to "go into your native photo, video and audio apps  to choose existing content that you'd like to upload" and allowing users to create content straight from the phone's camera or microphone, adding it to their cloud account straight after. While these don't seem like huge updates, Box is looking for the smooth factor with their app: they want you to be able to jump into a camera from the application's home screen, then snap right back to it after in order to upload your creation.
Also included is some stability issues, but that can be assumed with every major update, right?
Scan to download:

—
Matt Demers hasn't written for Droid-Life in awhile, but he's glad to be back. You can follow him on Twitter at @mattdemers and find his work at MattDemers.com.