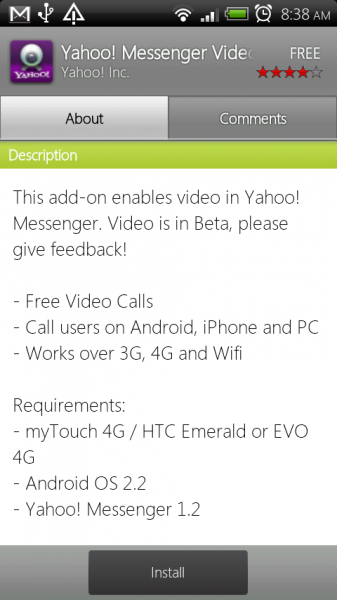 Yahoo updated a couple of its more popular apps, Messenger and Mail, to include some much needed new features.  Messenger now has official support for video chatting on the MyTouch 4G plus "experimental support" on the EVO and zero support for the Galaxy Tab.  Actually, Yahoo apps in general appear not to support ANY Galaxy S devices which is a little odd.  There are only 3 million+ in existence around the world.  The mail app now allows for multiple accounts, lets you preview photos and has a more polished notification system.  Like I said, all "much need" stuff.
*For video chatting to work, you will need both the Yahoo Messenger app and the video add-0n.
Yahoo Messenger | Video Add-on | Yahoo Mail
Via:  Yahoo
______________________
Some of our best videos.