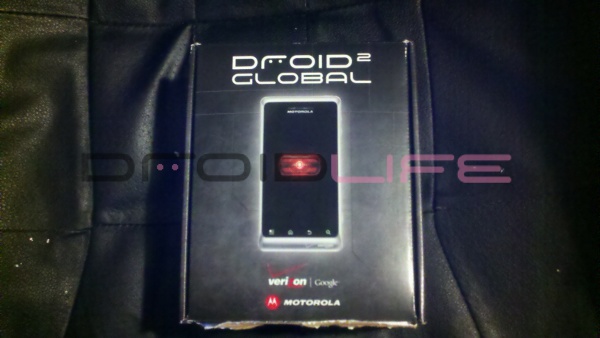 The still unannounced, but for sale Droid 2 Global is starting to arrive on doorsteps.  If you placed an order late Monday night or early Tuesday morning, you might want to go look out on your porch or at least check your tracking status.  As you can see from the full gallery below, the white version is as pretty as it was when we showed you the first pictures of it back in September.  (Thanks Henry!)
Hit the break for some new stuff and a bunch of photos!  
Some things you may not have known about the D2 Global:
SIM card included and pre-installed.
International chargers also included.
8GB SD card included.
VPN app pre-installed.
SIM Manager pre-installed
Keyboard flatter than original D2.  Clicks on key press.
The more I see of this device, the more I'm starting to really like it.  It sounds like the keyboard is even better than the D2's and the extra processor speed is felt from what I have been told.  Just look at the benchmark from our post here and below!  I'm really digging the white and bright silver color scheme too and am now scheming up ways to trade off my D2 for this updated version.
Anyone else get theirs?
Cheers again Henry!