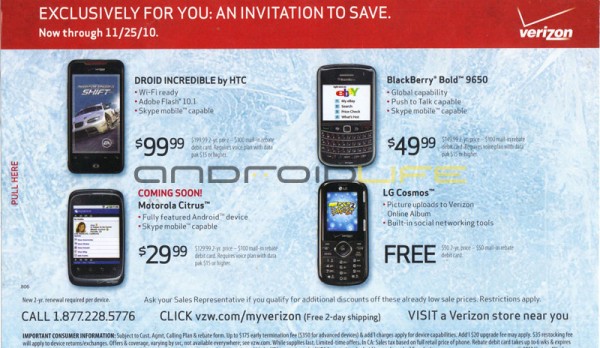 Today was a pretty big day for us with the launch of our new Android site, but I've got to admit that the news in general was just as hot.  We saw a bunch of slip-ups on Verizon's site leading us into a bunch of goodies for the Droid franchise and some other Android devices like the Continuum and Citrus.  We also got some good news on the growth of Android and found a way to have multiple profiles on Angry Birds.
Today's Top Stories from Android Life:
Motorola Citrus $30 & Droid Incredible $100 In Upcoming Verizon Promotion
Almost Half Of All Smartphones Shipped In Q3 2010 Ran Android
Angry Aviary Enables Angry Birds Profiles
T-Mobile Galaxy Tab Available For Preorder At Amazon For $699
ViewSonic ViewPad Officially Announced, 7in & 10.1in Models
Samsung Continuum Appears On Verizon "Holiday Gift Ideas" Page
Samsung Continuum To Be Released On November 11th
Sprint Adds 4G Coverage To NYC, Hartford, New Haven, New Brunswick, Trenton And Tampa
Stream Video Games From Your Computer To Google TV
To get all of the latest Android news, subscribe to the Android Life feed!