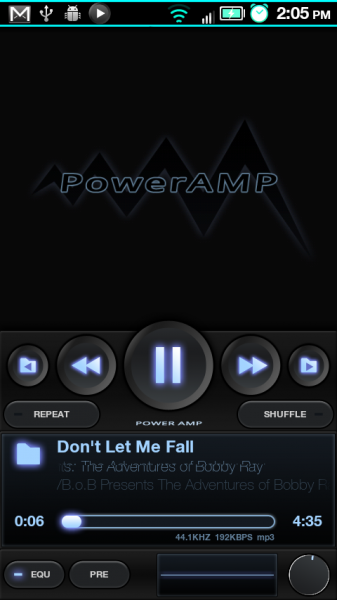 A lot of music player talk lately has been about Winamp when it should have been about this app called PowerAMP.  From what I can tell it has been out for almost a week now and should be on everyone's short list of apps to try this Halloween weekend.  I sat down with it for just a couple of minutes and tweaked enough settings on one track to feel like a true mixmaster.  
Download:  PowerAMP1.0.113.apk (New version!  Cheers Jason!)
Some of the Features:
-MP3, MP4/M4A,loseless ALAC,FLAC, OGG, WAV, TTA, WMA
-Has own codecs
-Widget
-Choose music from SD card
-Tegs, lyrics
-Skins, 2 in beta version
-Fast scan of files ( in 1 second 1000files, depends on phone speed)
-EQ
For a full walk-through and a good laugh, check out the video below.
Via:  XDA Forums
Cheers Jason!