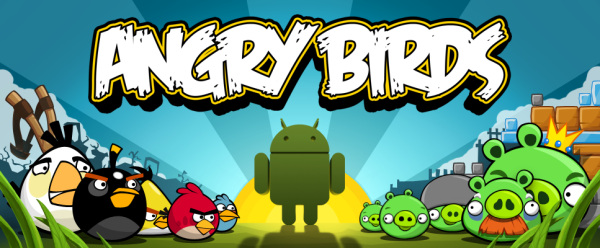 Angry Birds is available!  It's not in the market yet, but it is free, has ads at this time and you can grab it from the link below.  If you are nervous, feel free to watch our video walk-through again, but don't hesitate too long, this is the game you need to have.  
Update:  It looks like their servers weren't ready for the massive flooding.  Try the link below this and if it's still down then hit up the comments for more links.
Download Link (Alt Link)
Angry Birds available for Android

IT'S HERE. AND IT'S FREE. After an extended period of beta testing, Rovio is proud to present Angry Birds for the Android platform. First of all, we'd like to thank you for your patience.

Why is Angry Birds free on Android? We want to make Angry Birds available for as many people as possible. Previously, many people were experiencing problems in finding Angry Birds on Android Market, but now everybody can download the game on their device.

Angry Birds will run on second generation Android devices and upwards, with Android platform 1.6 or later. Your device needs to support OpenGL ES 2.0. QVGA display resolution is not supported currently, but we will add support for QVGA devices soon.

Angry Birds Android features mobile advertising. A future update will include the option to purchase and opt out of advertisements.

To get the game now, you can download Angry Birds on your device for free exclusively from GetJar (http://www.getjar.com/angry-birds). It will soon be available on the Android Market and Motorola SHOP4APPS, free of charge as well.

We have worked long and hard to ensure that Angry Birds gives the best possible experience on Android, and we believe we have reached our goal. We welcome our fans to see for themselves and have fun playing Angry Birds!

More Angry Birds goodies:

-Become a facebook fan: facebook.angrybirds.com
-Follow us on Twitter: twitter.angrybirds.com
-Official page: www.angrybirds.com
-Youtube: youtube.angrybirds.com

Have fun!

Best regards,

The Angry Birds Team
______________________
Some of our best videos.