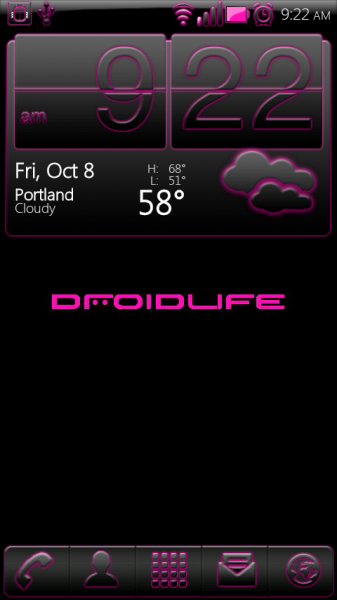 We're thinking about bombarding you with custom themes for all devices today and the first one up is the Droid X.  This theme has been out for a while, but it just seems to get better by the week with new colors, pieces themed, and more support.  Say hello to BigDX Serenity in our favorite, pink!  Serenity is one of the few DX themes you'll find that will actually take over almost every piece of your phone.  Some of the themes out there are just a framework update, but this is so much more.
Hate pink?  Don't worry, there are 7 other colors at the support thread below.  
Download:  BigDSerenityXPink1003.zip
Instructions:
1.  Download the file from above and drop it on your SD card.
2.  You have to be rooted.  (Instructions)
3.  You need to run Koush's Bootstrap Recovery.
4.  Your phone needs to be deodexed.  (Instructions)
5.  Open the DX Bootstrap and "boostrap" the recovery.
6.  When that finishes, "reboot recovery."
7.  Once your phone boots to Clockwork Recovery, scroll down to "backup and restore."
8.  Choose "backup" to make a clean backup of your phone.
9.  When that finishes choose "install zip from SD card."
10.  Then "choose zip from SD card" and find the BigD.zip file, select it and hit "yes."
11.   Your phone will apply the theme.  When it finishes, reboot and enjoy!
If you want the Droid Life wallpaper, download it here.
Full support thread and additional colors at BigD's XDA thread.  Donate too!