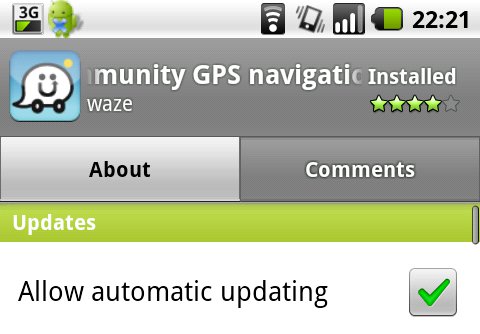 We broke the news on this a couple of hours ago, but the Android team has now made it official.  To all new countries that have been granted paid app support, users will need to have the latest version of the market which as the shot above shows, allows for auto-updating.   The update will be a silent install and users won't be prompted…
For users to make a purchase of paid apps in these countries, they must have the latest Android Market client, which we have started to make available as a self-update and should reach all users within the next few days. This is a silent update; users will not see a notification and will not be prompted to do anything. If you want to accelerate the self-update process, launch Android Market, navigate back to the Home screen, and after 5-10 minutes, relaunch it. For more details, please refer to the Help Center.
So there you have it, Android 2.1 can run the new Market.
Via:  Android Developers