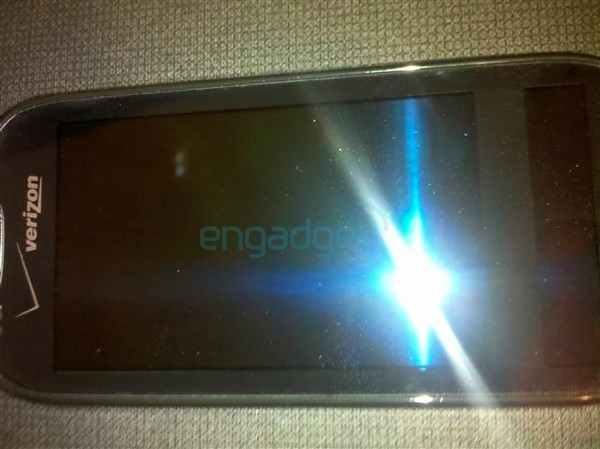 You are looking at the next Samsung Galaxy S device called the Continuum (SCH-i400) which appears to be on its way to Verizon to either replace the Fascinate (review) or least satisfy the…2 screen needing…Android crowd.  Wait that exists?  Apparently Samsung thinks so!
According to sources at Engadget, this new device will have dual screens, with the bottom one acting as a ticker of sorts.  This ticker will show you notifications, weather, RSS updates, etc. and might even automatically turn on just by picking it up.  The benefit here is obviously its battery saving ability which would allow you to leave your big OLED screen off to check simple updates to your phone.
Here are my concerns.  The softkeys, which on the Fascinate were one of its major downfalls, are now in between 2 touch screens.  Talk about frustrations in the making?  Good luck finding those in a dark room on the fly.  And is it just me or does this device look like it's about twice as long as the Droid X?  Time to bring back the JNCOs?  I'm not going to lie, this device looks ridiculously awkward, but maybe that's just me!
Oh, I almost forgot to mention it's filled with Bing.  And puzzle pieces.
More shots after the break.  
Thoughts?
Source:  Engadget, The Droid Guy
Cheers Phil!