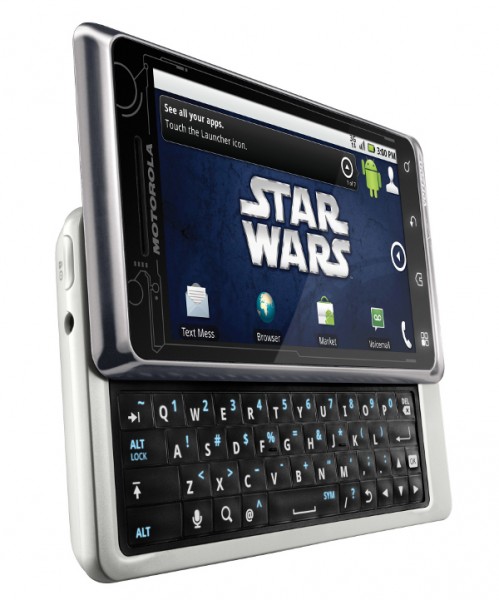 Verizon made the R2-D2 Droid 2 official today a set its price tag at $249 on 2-year contract after $100 mail in rebate.  No mention of full retail price, but we're thinking $649 assuming they'll even let you buy one at full retail.  As we all know, the special edition Star Wars device comes out on September 30th, with some stores opening at midnight on the 29th to get the release party going.
Oh, they also plan on releasing a special edition Empires Strikes Back app, but no date was given.
Full press release after the jump.  
BASKING RIDGE, NJ, and LIBERTYVILLE, IL — Verizon Wireless announced that the highly anticipated limited edition DROID™ R2-D2™ by Motorola will be available online at www.verizonwireless.com and in select Verizon Wireless Communication stores beginning Sept. 30. With a graphic design to look like the iconic Astromech Droid from the Star Wars™ Saga, the DROID™ R2-D2™ by Motorola will be packaged in a custom box resembling carbonite and come with a Star Wars media dock and wired stereo headset. Exclusive content comes pre-loaded on the special edition smartphone, including:

R2-D2 notification sounds and ringtones
Four live wallpapers
R2-D2 Clock Widget
"The Best of R2-D2" video with the original Cantina music
Exclusive Binoculars App

Star Wars Mobile App Available for All Customers with Android 2.1 phones
To celebrate 30 years since the film hit theaters, customers with Android devices running Android 2.1 or higher will soon be able to get the Empire Strikes Back app from Android Market™. The app, only for Verizon Wireless customers, allows Jedi Masters to browse, preview and download Star Wars content related to Star Wars: Episode V The Empire Strikes Back. Verizon Wireless customers can access premium Star Wars content for a one-time charge of $2.99.The Star Wars mobile app will have the following features and content:

Bounty Hunt Visual ID: Find and capture images around the Star Wars universe to unlock hidden content
Sound and Photo Gallery
Live Wallpapers:  Blast the Probe Droid, Luke Balancing Yoda, Navigating the Asteroid Field, Watch Bespin's Cloud City
Trivia Challenge: Answer trivia questions about the Empire Strikes Back
Widgets

The DROID™ R2-D2™ by Motorola will be available for $249 after a $100 mail-in rebate with a new two-year customer agreement. Customers will need to subscribe to a Nationwide Talk plan or a Nationwide Talk & Text plan (beginning at $39.99 monthly access) and an Email and Web for Smartphone plan (beginning at $29.99 for unlimited monthly access). Customers will receive the rebate in the form of a debit card; upon receipt, customers may use the card as cash anywhere debit cards are accepted.

For more information on DROID™ R2-D2™ by Motorola, go to www.droiddoes.com/r2d2.

About Verizon Wireless
Verizon Wireless operates the nation's most reliable and largest wireless voice and 3G data network, serving more than 92 million customers. Headquartered in Basking Ridge, N.J., with 79,000 employees nationwide, Verizon Wireless is a joint venture of Verizon Communications (NYSE, NASDAQ: VZ) and Vodafone (LSE, NASDAQ: VOD). For more information, visit www.verizonwireless.com. To preview and request broadcast-quality video footage and high-resolution stills of Verizon Wireless operations, log on to the Verizon Wireless Multimedia Library at www.verizonwireless.com/multimedia.

About Motorola
Motorola is known around the world for innovation in communications and is focused on advancing the way the world connects. From broadband communications infrastructure, enterprise mobility and public safety solutions to mobile and wireline digital communication devices that provide compelling experiences, Motorola is leading the next wave of innovations that enable people, enterprises and governments to be more connected and more mobile. Motorola (NYSE: MOT) had sales of US $22 billion in 2009. For more information, please visit www.motorola.com.

STAR WARS™, DROID™ and related properties are trademarks and/or copyrights, in the United States and other countries, of Lucasfilm Ltd. and/or its affiliates. TM & © Lucasfilm Ltd. All rights reserved. Used under license. All other trademarks and trade names are properties of their respective owners.

Android, Android Market are trademarks of Google Inc.
Via: Verizon