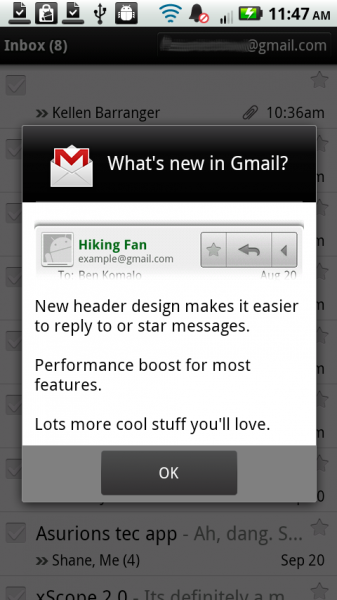 The leaked Gmail app which we posted a few weeks back has now become official and is available to anyone running Android 2.2.  (Sorry Droid X users, you have to wait until tomorrow.)  The update includes a bunch of much needed features including:
As you scroll through a conversation, your most important message actions will now stick to the top of the screen, one click away, no matter how long the email is.
Very long thread? Now you can view previous message content more easily, just like in the desktop version of Gmail. Tap "Show quoted text" to reveal the previous message.
Finally, this updated version of the Gmail app has limited support for Priority Inbox. If you've enabled Priority Inbox via the desktop version of Gmail, you'll see an "Important" label that shows all messages flagged as important. You can even add a shortcut to "Important" to your home screen.
Purely awesome.
Download:

Source:  Google Mobile Blog