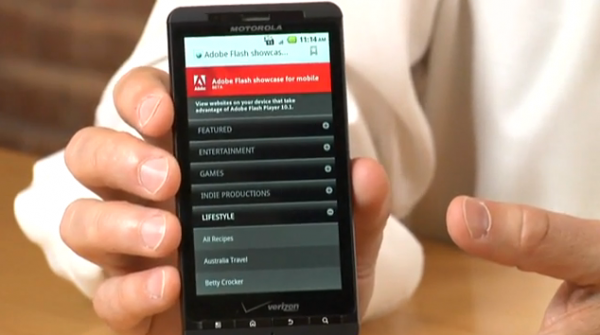 Motorola and Adobe are putting together a quick hour-long get together tomorrow which appears to be directly aimed at "DROID" devices running Flash 10.1.  The quick excerpt about the meetup doesn't give a ton of details, but it definitely mentions "DROID" and not just "Android" which you can see in the topic titled "Creating Flash Platform experiences for DROID Devices."  What could Moto and Adobe be cooking up?  I can't wait to find out.
If you'd like to attend either in person or via live stream, hit up the source link at the bottom.  
And the details of the event:
We'll be live streaming the DROID Does Flash Meetup for all those Flash designers & developers plus Android developers from all around the world. Make sure to register below for all the details including the Adobe Connect url. If you are in SF and can attend in-person we would love to see you plus there are a few giveaways so a little extra benefit to be at the Adobe offices starting at 6pm.

Here is the live stream agenda:

6:30-6:45:
Welcome & Motorola Android & Adobe partnership Overview
Lori Fraleigh, Motorola, Director, Developer Platforms, Tools, and Technical Services

6:45-7:15:
Creating Flash Platform experiences for DROID Devices
Ryan Stewart, Adobe, Platform Evangelist

7:15-7:30:
Mobile optimization tips and Flash site demo
Mochi Media, VP of Engineering

7:30-7:45: Q&A
Our boy Ryan from Adobe at 6:45!  At least tune in just to listen to him dominate the podium.
Anyone else in?
Via:  MOTODEV Blog, AndroidSpin