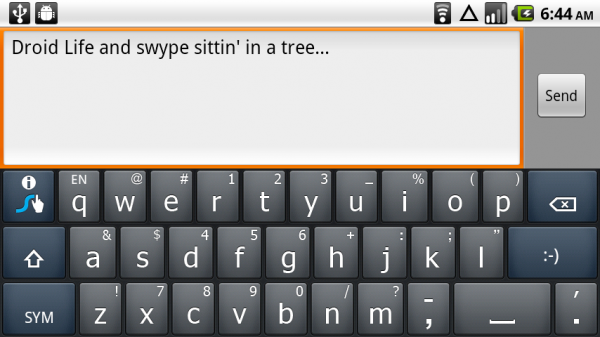 If you are a part of the Swype beta then there is a new version available for you to upgrade to today.  To get it, you have to have been a registered tester in their program, meaning you need an email and login in order for it to work correctly.  They suggest that you uninstall your old version including the installer and then download the new version from your phone here.
Here is the changelog:
Added German and Portuguese languages
Added the auto-space suppression short-cut gesture: Swype from the spacebar to backspace
Added the quick language switch short-cut gesture: Swype from the Swype Key to the Q key
Improved the word prediction algorithm to provide better support for additional languages
Improved handling of several gesture collisions, including want/wasn't, to/too and others
The Android IME no longer sometimes hangs/crashes when Swype scrapes the user's address book for dictionary entries
Tips and help menus now accessible when a password field is active
Backspace now works in applications which use raw key input instead of an editable text field (e.g. terminal emulator)
The single character "i" is no longer incorrectly auto-capitalized in non-English languages (reported by many of you!)
Tons of other minor bug-fixes, including many device-specific issues
What's interesting is that this "beta" is version 2.4.44.10912 while the Droid 2's official version is only 1.64.40.9380.  Who knows right?