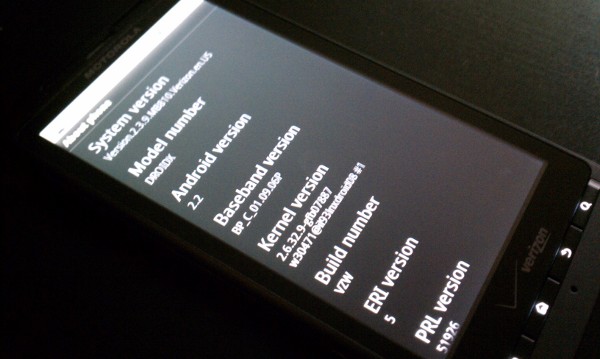 A new Android 2.2 leak has appeared for the Droid X, at this time is only available for rooted users and is apparently a giant pain in the arse.  I had actually been holding off from posting about this after reading through 25+ pages of frustrations in the source forum and can't recommend that you even bother applying this.  Users have ended up having to flash SBF files more than once in order to recover their phones which we all know is not the most enjoyable process.  We're not seeing any real benefit or reasons as to why you would want this new leak, other than to say you have a new leak on your phone.
Notes:
Avoid this unless you have the Droid X SBF file.
SERIOUSLY, avoid this unless you have the Droid X SBF file.
This is a deodexed ROM.  I don't care what anyone tells you, but when files have been tinkered with, deodexed and batched into an update.zip which can only be flashed via custom recovery, it's a ROM.  This is not the same as the previous leak.
You will likely lose root access.  The current rooting process requires adb meaning avoid unless you are ready to install the Android SDK and bust out some adb commands.
The official is likely 2-3 weeks away.  Might want to just wait this one out.
I did not bother flashing this.
Still want to do it?  Instructions after the jump!  
*Warning* – If you choose to proceed with flashing this file to your phone, you accept all risk which could include bricking your phone.  Should you brick your phone, Droid Life will not be held responsible.
Download:  DX-2313-Deodexed.zip
Instructions:  (taken word-for-word from source)
1. Restart phone via Koush bootstrap into Recovery Mode
2. Wipe Data
3. Wipe Cache
4. Select Mounts and Storage
5. Select Format System (ONLY DO THIS IF IT FAILS TO INSTALL THE FIRST TIME)
6. Select Mount System
7. Back out by pressing Power button
8. Select Install zip from sdcard
9. Select choose zip from sdcard
10. find and select this zip file
11. First Boot may take up to 5 minutes
12. Go into Koush Bootstrap (if you have it) and re do the bootstrap. (must be rooted)
Feel free to let us know if you've gone forward with this.  Also, post up any issues you run into and what you did to remedy them. Any help you can provide those brave users out there is greatly appreciated!
Via:  MDW