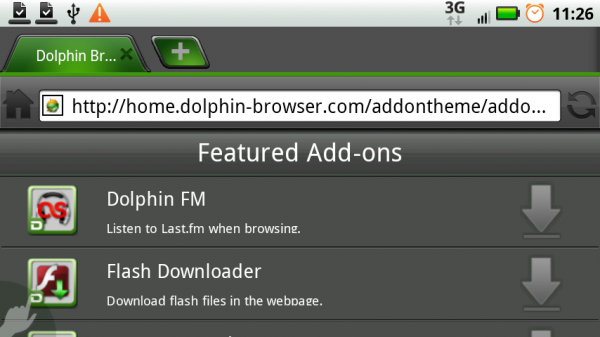 One of our favorite browsers, Dolphin HD (and supporting vendors) has released 2 new add-ons which will help change your browsing experience in an exciting way.  The first is the ability to download Flash content from web pages straight to your SD card and the other is the ability to now stream Last.fm and browse the web at teh same time.  Yay!
Download Flash file in the webpage.
*Automatic detection of existing flash files in webpage, you can download them selectively.
*Downloaded Flash files will be saved to SD card, allowing you to enjoy anytime, anywhere.

Listen to Last.fm when browsing
*Open a personal radio station on your phone.
*When you browse the web, you can listen to Last.fm at the same time.
Download:
Flash Files           |               Last.fm
Via:  Dolphin Facebook
Cheers matrix2004!