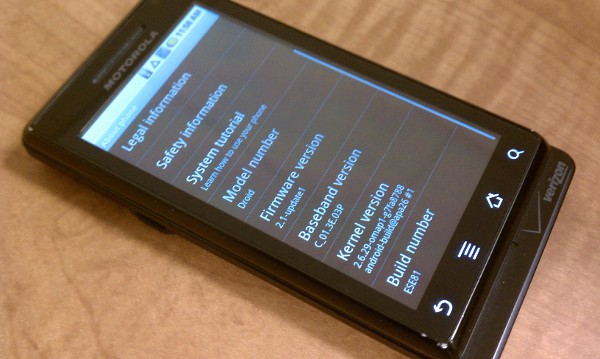 There are a few topics that have really been hammering our inboxes over the last few days, and in some way all have to do with the impending Android 2.2 update which should hit Droids across the country starting tomorrow.  And just as we did a couple of months ago, it seemed only fair that we re-visit these topics to get you all prepared once again on the rooting/unrooting front for those with worries, issues or simply seeking answers.
Should I unroot before 2.2 arrives?
For this question, I'm going to basically just copy and paste from our previous post…
Should you un-root?  My initial reaction is to say, "Oh heck no!"  My second reaction is, "Wait…why would you un-root if you've already rooted in the past?"  I say that simply because with the release of a new Android OS, we see a flurry of rooted users frantically figuring out a way to get the update as soon as it's released.  Can't blame them right?  Who doesn't want new goodies?  The problem is, that immediately after unrooting and installing an update, they can no longer overclock, take screen shots, install custom ROMs, or do anything that drew them into rooting in the first place.  And what happens when they realize all of that?  They want to root their device again.
There is a growing concern in the Droid community that we will see Motorola start to lock down their devices when future OTA updates are released.  You thought 2.1 was tough to root, just wait until we reach Motorola Droid X bootloader status.
So should you "un-root" for Froyo?  I would say that holding off for now is your best bet until we see what Moto has placed in front of us.  Plus, you are already running Froyo with additional goodies, do you really want to give all of those up?
How do I unroot and get back to stock 2.1?
We're not going to post instructions to do this as they are spread around on just about every Android forum on the planet, but we'll give you a hint as to where to look.  If you do a Google search for "unroot/unbrick droid" or "unbrick droid" you should find quite the selection of links that will get you back to stock.  The process is almost the same as we used through our guide to rooting 2.1 with RSD Lite, Motorola USB drivers and an SBF file, only this time the SBF file wipes your phone completely clean and installs a clean Android image.  Once you find a set of instructions on a forum, feel free to try this file in place of the 2.0.1 SBF.
Should I root before 2.2 arrives?
Again we'll just pull from our previous post…
Should you root?  This is a much tougher question than the previous one.  First, you should ask yourself, "Why do I want to root my Droid?"  If you are struggling for answers, check out this poll we ran a while back asking users to give us their top reasons.  If you read through the comments there and decide you still want to root, then I say now is a much better time to take on the process than after 2.2 is released.

And along the same lines as the answer to the previous question, you've got to consider the fact that the rooting process for Android 2.2 could be much more difficult than it was for 2.1.  In fact, it might be almost impossible.  We really don't know at this time.

I'll also point out that I have yet to hear of a person doing any permanent damage to their device while going through the process we have put together.  Is it still risky?  Of course it is.  Do your research, check out our "Root/Unlock" section, and ask questions around the site before proceeding.

So should you "root" before Froyo is released?  Weigh the pluses and minuses and if you are still interested, hit up our "Guide to Rooting Android 2.1."
Still have comments or questions?  Be sure to drop them in the comments and our team of moderators will do our best to help you out!