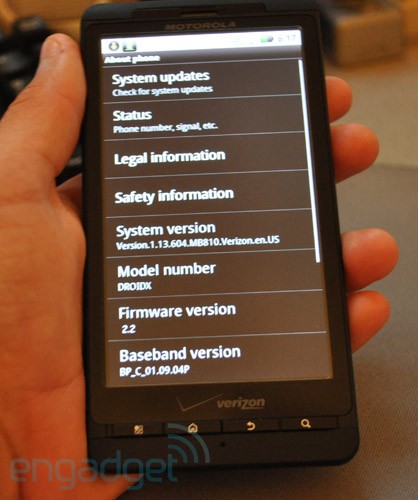 Another Droid X Froyo sighting.   And this time we have a picture of the full phone instead of just a screenshot.  Anyone else feeling even more skeptical about this one than the last though?  Same baseband and system version as the 2.1 Droid X we all currently have seems a little odd.  We would normally expect both of those to be updated.  (Shrug.)
I'm starting to get the feeling that we'll be seeing these popping up on a daily basis until the OTA finally rolls out.  Aren't you?
So we've got an "official" Incredible Android 2.2 leak, 2 shots of the Droid X "allegedly" running it and who knows how many builds for the Droid 1 in the wild.  I guess next Friday is starting to look more and more legit.
Source:  Engadget