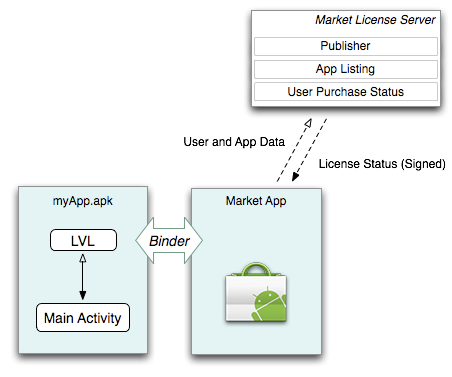 The latest announcement from the Android team should bring a giant smile to the faces of application developers.  It's time to finally start cracking down on Android application piracy.  A new licensing service has been provided to devs and should roll out to the market within the next few months…
This simple and free service provides a secure mechanism to manage access to all Android Market paid applications targeting Android 1.5 or higher. At run time, with the inclusion of a set of libraries provided by us, your application can query the Android Market licensing server to determine the license status of your users. It returns information on whether your users are authorized to use the app based on stored sales records.
If you need a translation on that, it's really just saying that market servers can ping the apps on your device from time to time to make sure it is actually licensed to/paid for by you.  And no, you don't have to worry about security, battery life, or "the man" watching over your shoulder with this new service.  This is a good thing people.
And time for a quick rant…
If you've been in the Android game for a while, you are likely familiar with the abundance of "blackmarket" Android app sites which only ask you to pay a small fee to join in order to get unlimited access to paid apps.  It's sad, pathetic and obviously illegal, but part of life in general I guess.  The thing that really irritates me is the fact that developers put so much time and energy into work which supports an operating system we all hope will continue to grow past everyone, yet we still have community members willing to undermine them.  Devs need to get paid if this way of life is ever going to progress to the top.  (Damn that sounded preachy!)
Source:  Android Developers Blog
Via:  TechCrunch
Cheers Jason!