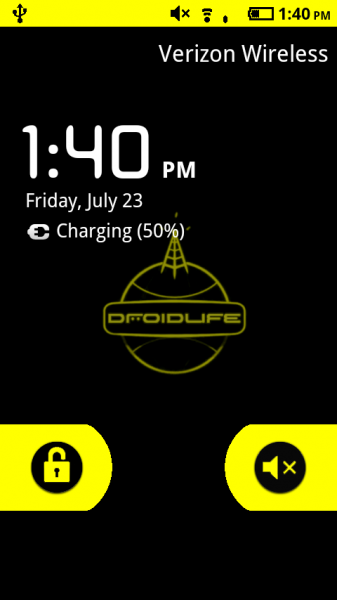 The name of this week's theme says it all.  This theme only changes your lock screen and notification bar; that's it.  There is something about keeping a theme as simple as possible that is extremely enjoyable.  Basically, you get to pick from 1 of 10 colors that the dev has put together and then make the rest look as you please.  You can create your own LauncherPro docks, icons, wallpapers, etc. to match perfectly to the framework that has been colored.
Theme: Minimalist for CM6
Instructions…
*Rooted Droid 1 users only.
1.  Install CyanogenMod 6 from ROM Manager.
2.  Download Minimalist Yellow from here.  (Other colors here.)
3.  Download and install MetaMorph from the market.
4.  Unzip the folder from the Minimalist download and extract to "AndroidThemes" on your SD card.
5.  Open MetaMorph and allow it to perform checks.
6.  Choose "Pick existing theme" and the "Yellow" folder.
7.  Tap on "Yellow.xml" and "Apply all!"
8.  Your phone should reboot during the process and will reboot with your new theme!
Full support thread and other colors schemes here.
And if you are interested in the wallpaper and LauncherPro add-ons, download them here.
Enjoy!