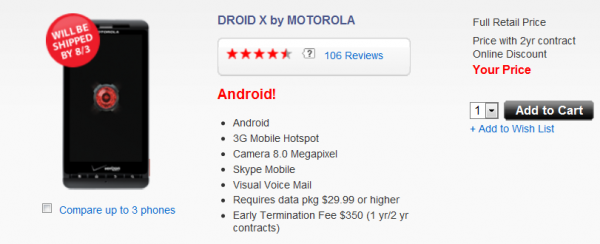 Pushed back again!  We're not calling this the "next Incredible" since it's pretty widely known that there were thousands more Droid X devices available on launch than we had with the DI.  Nope, this really just shows that the device is a beast and selling like hot cakes.  While it's sad to see people having to wait a few weeks to get their DX, you can't hate on the success.
Oh and the Incredible is holding strong at 8/3.  Yay!
Anyone waiting on either device?  We've heard about the tiny handful of DX's with screen issues.  Sorry that you'll have to wait until the 3rd to get a replacement.
Cheers Vikram and HuskerPower!