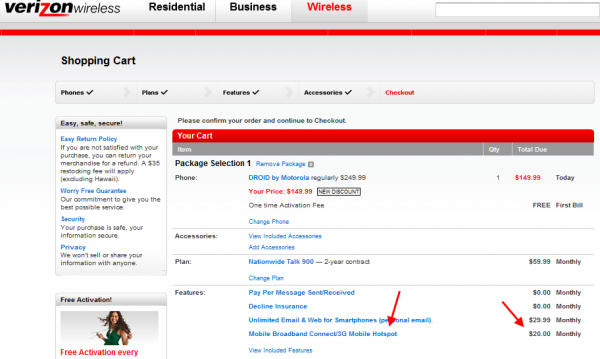 Now there is some interesting news on a Friday morning.  A reader sent in a tip that you can now add the mobile hotspot feature for an additional $20 per to the original Motorola Droid.  This comes as a little bit of as surprise and can mean a couple of things really…
1.  Froyo is imminent – We all know that Froyo has a built in wifi tethering system which had been previously absent from leaked Droid Froyo builds, but could have possibly been added last minute.  Seems pretty unlikely though right?
2.  An OTA Update is coming – Similar to the one we featured this morning for the Droid Incredible, we could have an update which would bring the 3G Mobile Hotspot app to the "end of life" Droid 1.  There is a chance it could still come in the future as an option through an update, but we have no word as to when.
Update 1: As one of our readers pointed out, option number 3 should be, "Whoopsies Verizon intern!  Let's take that option down quietly."
Update 2: Sounds like it is simply a mistake on VZW's website.  Mrpicolas has confirmed thru Big Red that this feature is only for the Droid X and Palm Pre and must be activated in the store.
To try to get some answers, I hammered the online sales rep during checkout to try to get him to explain exactly what the feature was and how it worked, but he kept referring me on to technical support.  No official answers, but this is something to keep an eye on. If you feel like playing detective today, let me know what you find out!
Cheers Matt!