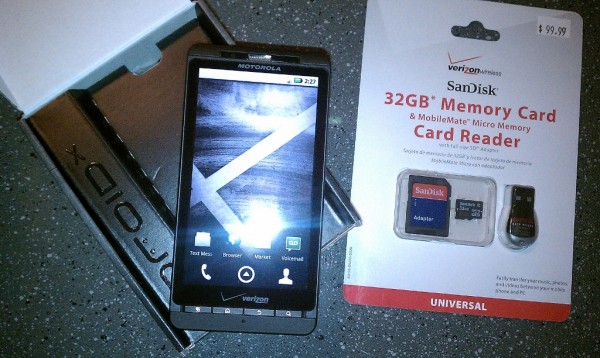 Well hello there Droid X and 32GB SD card which says $99, but really only cost Droid Life $50.  Yay!
OK, so we're back from a little adventure to pick up the new beast on the Verizon block and have some news to share that might change your current and future orders…
Sold Out – First of all, the DX is basically sold out everywhere.  We were just at a store outside of Portland that received 65 devices and had 2 left when we walked out the door.
Next Shipment – When you can place an order for one in store again?  Confirmed by 2 sources, as of today (7/15), orders placed after 2:30PM will not be shipped until 7/23.
Device on Hold – If you had a DX on hold, it is likely gone.  Stores were holding until 2PM today and will sell your device if you had not picked it up by then.
32GB SD cards – While Verizon had announced that the 32GB SD cards would be discounted from $149 to $99, I was able to purchase one for $50.  Some stores may do this, others may not.  Either way, it's worth asking to see if you can save yourself some cash.  (Yes the one with the bigger geebeez.)
Data Service – If you are attempting to activate a DX right now, good luck.  They have had so many activations today that a backlog is currently hampering new devices from accessing data.
Online orders now being shipped 7/23…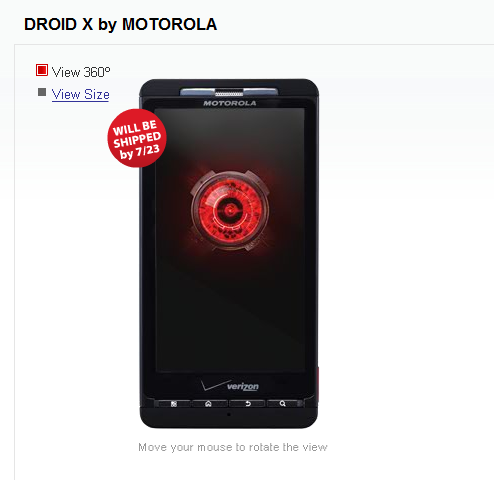 And our first impressions coming up shortly!