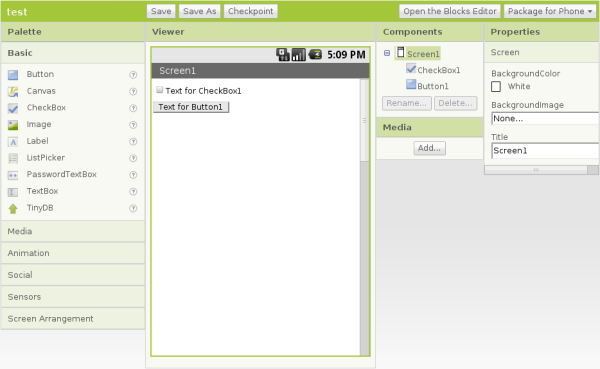 Ever thought about creating your own app but have absolutely no idea where to start?  Google can help you with that.  The latest venture from the company behind Android, is a tool that will allow just about anyone to create their own apps with a few simple clicks.
The Android App Inventor will be launched today…
You can build just about any app you can imagine with App Inventor. Often people begin by building games like WhackAMole or games that let you draw funny pictures on your friend's faces. You can even make use of the phone's sensors to move a ball through a maze based on tilting the phone.

But app building is not limited to simple games. You can also build apps that inform and educate. You can create a quiz app to help you and your classmates study for a test. With Android's text-to-speech capabilities, you can even have the phone ask the questions aloud.

To use App Inventor, you do not need to be a developer. App Inventor requires NO programming knowledge. This is because instead of writing code, you visually design the way the app looks and use blocks to specify the app's behavior.
Sound interesting?  If you are still not following, check out this intro video…
To learn more check out the App Inventor website.
To sign up to start using App Inventor, head here.
Any ideas popping into those amazing brains of yours?  This should get interesting.
Via:  New York Times
Cheers to Shadez and Kevin!