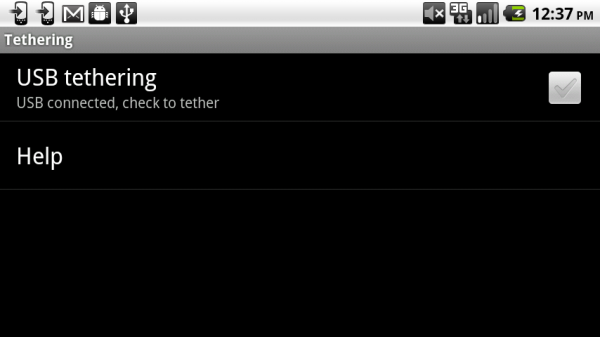 For those of you already running one of the many Android 2.2 builds in the wild, you might want to steer clear of using the USB tethering option that is built in.  In fact, if you do, you will be directed immediately to this page which asks you to sign up for Mobile Broadband Connect.  Problem with that?  There is no package for the Droid at this time.
Update: I should clarify this a little after reading some of the comments.  This appears to be something new and only happening with the native Froyo tethering app.  That would be the tethering included in the newest FRF84B build.  Wi-fi tethering should still work and quite possibly, the rest of the tethering apps on the market.
Check out some reader emails we just received…
If you try and tether your phone using froyo, it will not work and it'll send you to a vzw page prompting you to buy a package that doesnt exist. I called verizon and they could not upgrade me to the package because it doesnt exist for moto droid.
More from VZW customer service and their thoughts on Froyo…
Just got back off the phone with vz and they stated that I should not have 2.2 and they wanted to know where I got it. I refused to answer that because I just read and am not an active participant in the Droid Life community. They said if they find out anyone is tethering they can suspend or terminate there contract. As well as they refused to release whatever they put on my account to stop me from tethering.
We know that the Droid X will have mobile hot spot capabilities at an extra $20 per month, but what is Big Red going to do about straight up tethering?  Also, you'll notice on the Mobile Broadband Connect page that package pricing is ending on July 15th, which is?  The Droid X release date.
Fun stuff for sure.  Just be careful!
And let me know if you are able to continue to use the native tethering app while on Froyo without receiving that URL we posted above.  Also, list your Froyo build number.