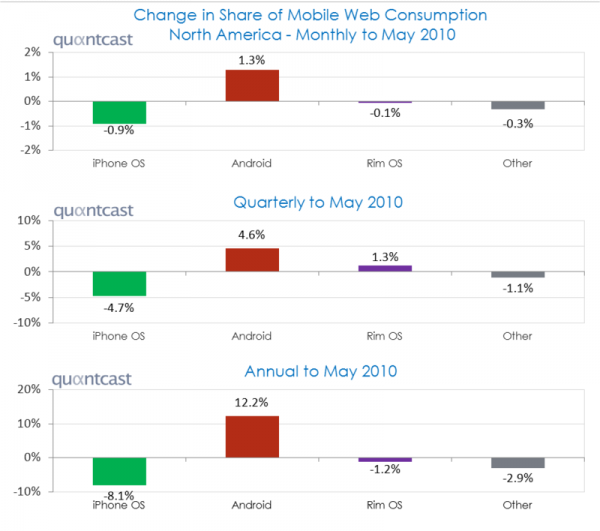 Quantcast just released a report detailing mobile web OS consumption in the U.S. and you'll find that Android could possibly take over the top dog crown in a just few short months.  Please ay, "Hello Android domination."  The bottom section from the chart above gives you a pretty clear idea of the giant strides that Android has made towards a stranglehold on the smartphone market through just 5 months in 2010.  A plus 12.2% increase with 8.1% of that coming from the iPhone OS?  Wow.
And to be fair to the article, we should also show you the current totals which will initially lead you to believe that the iPhone OS at 58.8% is clearly the front runner.  Not so fast actually.  You have to realize that the iPhone OS includes all versions of the iPod Touch plus the new iPad.  When you compare actual iPhones in the U.S. (10.7 million) to Android devices (8.7 million), this race is almost dead even.
As a reminder, these numbers do not include the Droid Incredible or EVO 4G sales which in future reports will give the numbers an even greater spike.  Oh, and don't we have two new Motorola Droid devices dropping on Verizon any day now?  Yikes Apple.  You might want to re-think your 1 device per year, one carrier model.
Source: Quantcast
Via: ReadWriteWeb
Cheers Dad!