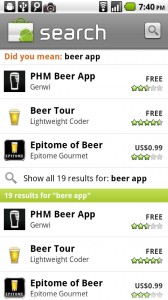 As you can see from the two screenies above, Froyo being on the left and 2.1 on the right, one of the new features of Android 2.2 is app suggestions for misspelled words in the Market.  Pretty handy right?  I'm actually surprised it took this long seeing as Google is known for well, being a top notch search engine.
Any other tips out there for the Froyo leak we gave to you yesterday?
Cheers Scott!
______________________
Some of our best videos.