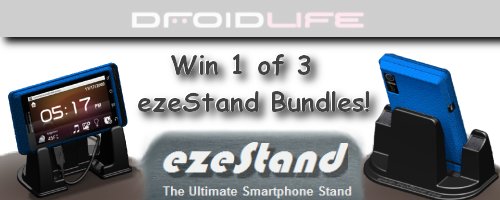 With well over 400 entries, I would consider this ezeStand contest to be a complete success!  As a refresher, remember that we are giving away 3 ezeStand Bundles today which means you'll get an ezeStand, plus one of those fabulous 6ft 90-degree angled USB cables.  Yessir, these are fantastic and a must-have for all Droid owners.  So let's get to it!
The winners are…
from Twitter…

Tracy (@tracyllnj)

and from Facebook…

Shelley J & Chris F
Congrats you three! You have all been contacted with directions for final steps.
A huge thanks again to everyone who participated!  Hitting well over 400 entries is a pretty cool thing.  I even saw some of you retweeting as often as you could which I greatly appreciate.  Thanks for spreading all that love.
And another big thanks to ezeStand for sponsoring another Droid Life contest!
Stay tuned for our next contest which should be starting up in June!