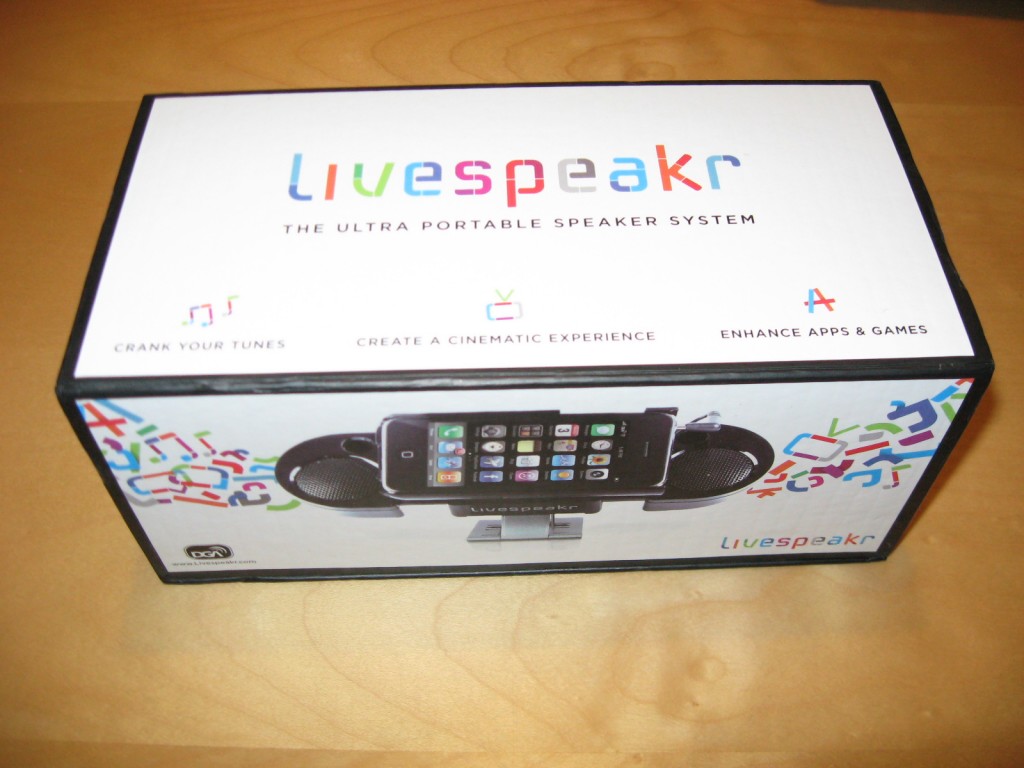 Over the weekend, we got our paws on the only portable Motorola Droid speaker system known to man, the Livespeakr.  After 2-3 days of playing with it, we were able to toss together a full video review plus a few shots of this little music machine.  So what's the overall impression?  Pretty favorable actually.
Now with this being our first full-on review of a product, I'll have to give you a little background on my rating scale.  I usually attack features with a somewhat random thought process and then give them points in a +/- fashion.  If that sounds confusing, I'm not surprised, just bare with me. And here we go!
1.  Packaging: Pretty look and a fun little box that can be re-used for traveling.  The iPhone on the box and instruction manual were cringe-worthy, but can be somewhat forgiven as we know Livespeakr is just now diving into the Moto Droid scene.  Score:  +1
2.  In the Box: I love the little felt or suede carrying case.  Was a little disappointed to see that it doesn't use a micro-USB cable to charge as that would have made my drawer full of cables that much lighter.   Score:  +1

3.  Look: The Livespeakr itself is a pretty snazzy looking device.  The fact that you can adjust the speakers and position of your Droid while docked is nice.  Plus, black always fits with your decor right?  (I would love to see how a black Droid looks with white system though.)  Score:  +1
4.  Functionality: Love the fact that you can use whichever music player you want from your Droid.  REALLY dislike the fact that you can't easily adjust the volume.  I'm sure some intern realized a Droid fits in the station in a random meeting and everyone said, "OMG! GENIUS! Let's sell it to Moto users!" but something as simple as turning down your sound is pretty major in overall functionality.  Score:  -1
5.  Battery: As you know, this puppy is portable and after charging it once and using it for 2 hours, it still seemed like it had plenty of juice. (They claim up to 16 hours worth.)  Also, your Droid runs on battery while docked and since it can sleep during playback, your Droid isn't drained much either.  Score:  +1
6.  Sound: For a mini-portable speaker system, I was impressed.  If you want Bose sound, go drop $500 somewhere else.  For the first portable system you'll find for the Droid, you should be completely satisfied with the Livespeakr's sound.  Score:  +1
7.  Price: At $79.99 you might shudder a little and that's completely understandable.  Do I think it's worth $80?  Not really sure.  Do you have any other options right now?  Not really.  Until I see and hear other portable speaker systems for the Droid it's hard to decide if that price point is right.  I do know that the price has been reduced over the last few months bringing it closer to everyone's budget.
Score:  Toss Up
8.  Overall: I like me some Livespeakr.  In fact, it's sitting on my kitchen table right now so I can drop my Droid in while cookin' up that grub.  OK, back to being serious.  At $80 it seems like it could be a little pricey, but I ran into zero issues other than with volume adjustment.  Is that a deal breaker?  Could be for some.  Would I recommend it to other Droid users?  Let's just say I would recommend it to anyone who has an extra $80 to spend on a portable speaker system.  That make sense?  It's a solid product that left me more than satisfied.
To purchase one visit the Livespeakr website.
Video and gallery after the jump!
Video action…
Gallery…